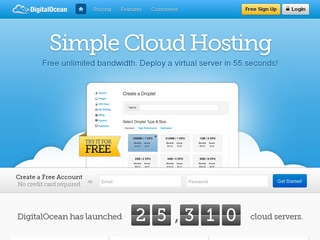 Mitch, the Marketing & Design man, from DigitalOcean sent in an offer last week. The offer is available in either New York or Amsterdam and is exclusive to LowEndBox.
256MB KVM/XEN
256MB RAM
20GB RAID10 Storage Space
Unmetered Bandwidth on a 1GB/s connection
1 Core
1 IPv4
XEN or KVM Virtulization
$5.00/month
DigitalOcean have started their time on LowEndBox with a bang an exclusive deal. Unlike most vps hosting providers, DigitalOcean have their own control panel. It requires you to create an account before you can order anything. Once you have created your account, simply log in and submit a ticket with the title 'LEB Credit'. Your account will then receive a $5 credit which you can use to purchase and instantly deploy a 256MB 'droplet'. You'll be required to enter your credit card/payment information, however you will not need to pay anything upfront (you can cancel at any time).
They were featured on Techcrunch back in April, 2012 when one of their staff members did 100 pushups in return for a 2 minute interview during New York Tech Day. DigitalOcean defiantly bring something new to the LowEndBox scene with their comprehensive and developer friendly control panel. They also have an active and thriving community with many helpful articles and tutorials.
UPDATE: Due to the volume of orders DigitalOcean has received they are temporarily putting this offer on hold whilst they deal with the backlog. New orders will not be processed.
IRC, VPN and proxies are permitted, however Tor and adult content is prohibited. A copy of their TOS is available here. They provide a 99.99% uptime SLA which covers network, power and virtual server availability. If they fail to deliver, they'll credit you based on the amount of time that service was unavailable for.
Network and General Information
DigitalOcean use the same AS network at both locations. This consists of a mix Cogent, Tinet and Internap bandwidth.
AS Number: http://bgp.he.net/AS46652
Test IPv4 [Amsterdam, Netherlands]: 141.0.173.1
Test IPv4 [New York, United States]: 69.55.54.214