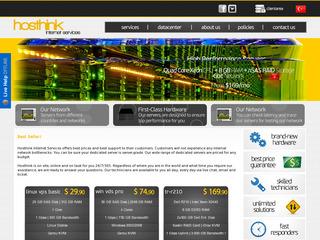 Seref, from Hosthink, has emailed us their first offer to LowEndBox and we're in for a treat! I believe this is the first time we have ever listed an offer from Turkey and the specifications certainly don't disappoint.
VZ – VZ-1024
2 Core Xeon CPU
1024 MB Guaranteed RAM
1.5GB Burstable RAM
15 GB RAID10 SSD Diskspace
1 Gbps Uplink
1000 GB Premium Bandwidth!
1 IPv4 Address
OpenVZ/SolusVM
$6.95/Month – Code LEBSPECIAL
Location: Istanbul, Turkey.
Hosthink have been around since 2010 and were formed in response "to the growing web hosting industry". They use Dell servers for their VPS nodes, which come equipped with the following specifications: RAID10 with BBU, Xeon Processors, Dell chassis and SSD Disks connected to a 1Gbps uplink. Seref also states in the ticket that if this plan is not suitable for you, then they can provide a customized plan tailored to your needs. If you've had an experience with them, please let us know in the comments about it!

On there website, it states that they offer a huge choice of operating systems, including Debian, Ubuntu, CentOS, Fedora and OpenSUSE. At present, they cannot offer IPv6 but each VPS comes with 1 IPv4 address. At present, they're only accepting payments via PayPal and Liberty Reserve, and they have a 3 day money back guarantee. For further information, the following PDF's may be of interest: Terms and Conditions, Terms of Service, Privacy Policy and finally their Acceptable Usage Policy.
Network Information:
Servers are located at the Radore Telecom's datacenter in Istanbul, Turkey (Europe).
Test IPv4: 31.210.102.114
Test File: http://www.hosthink.net/100mb.test