Looking for the best, and cheapest, VPS hosting in 2023? Perhaps you're currently on a shared hosting environment and you are looking to move your websites to a VPS for better performance? Or maybe you're a developer or hobbyist looking for one of the best cheap VPS to run/develop scripts on. Regardless of what your use case is – in this post, we'll outline some of the cheapest VPS hosting deals available on the marketplace today. This post has been updated as of September 2023, to provide you with the most relevant information possible.
Before selecting your ideal cheap VPS hosting provider you may wish to consider learning more about the technology behind VPS hosting, which we've covered in a summary explanation along with more detailed information on KVM Virtualization and OpenVZ Virtualization. Each technology is different and is best suited for different needs – for example a shared resource OpenVZ based VPS may be less expensive and better suited for hobby use than a higher performance VPS with dedicated resources, based on KVM Virtualization. 
Criteria for providers mentioned in this post include overall reputation within our community, reported user experiences, and provider's attentiveness to reported issues.
Best Cheap VPS Hosting: RackNerd
RackNerd has been featured here within the LowEndBox community numerous times. They are active both on LowEndBox and LowEndTalk, and receive positive feedback from our community. RackNerd is considered a resident host here on LowEndBox and offers submitted by them are generally highly commented by community members. RackNerd is owned by Dustin B. Cisneros who established the company as an LLC, and also has recently shared their office space expansion with the community. Certainly a significant player within the industry who is making a lot of positive contributions and who routinely ranks number one in our most commented offer threads in each month.
RackNerd's cheapest VPS package includes:
RackNerd, being a "Resident Host" here at LowEndBox, means you may be able to find an even better deal by browsing on LowEndBox for their latest offers. Be sure to search through recent posts for RackNerd! A lot of the feedback is positive! Kudos to RackNerd.
Best Cheap VPS Hosting: CloudServer
CloudServer – it's all in the name. A newer entrant to the LowEndBox marketplace, CloudServer is offering value-centric inexpensive Cloud and VPS hosting services hosted in North America. If you are looking for a flexible and professional provider for your cloud hosting needs, be sure to check out CloudServer! All of the VPS plans offered by CloudServer, including the particular package shown below, are hosted on KVM – offering dedicated resources and higher performance than comparable OpenVZ powered VPS packages, which often times are plagued by oversubscription on the host nodes.
CloudServer's high value VPS package offers:
CloudServer has been published on LowEndBox dozens of times, so you may find a better/different deal for your specific needs by searching LowEndBox for their other offers.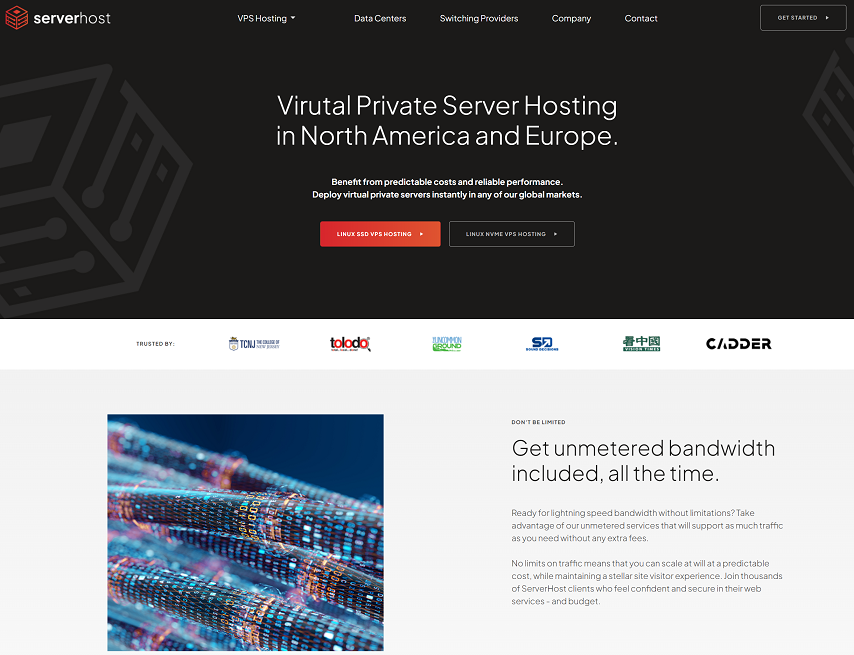 Best Cheap VPS Hosting: Server Host
From the creators of Cheap Windows VPS (who have been featured on LowEndBox for nearly 10 years!) comes an exciting new business featuring Linux SSD and NVME VPS hosting plans. With their 9 years of being active on the Lowend circuit, Server Host stems from a long-term and stable service background which is customer-service focused and dedicated to providing quality hosting solutions. Their datacenter locations include locations such as Los Angeles, Chicago, Dallas, Buffalo and Amsterdam.
Server Host's VPS package offers:
Additionally, you may be able to find a better deal by browsing on LowEndBox for Server Host's latest offers and/or offers from their sister company, CheapWindowsVPS!
Best Cheap VPS Hosting: CheapWindowsVPS
Cheap Windows VPS has been featured on LowEndBox plenty of times over the years, having first been posted in June 2014. If you're looking for a stable, long-term provider, CWPVS should be your pick! They recently launched their new high speed NVMe based KVM hosting platform and have shared some great exclusive promotional deals with LowEndBox with a 50% off recurring discount. Their datacenter locations include popular locations in the United States such as Los Angeles, Chicago, Dallas, and Buffalo plus they just launched their Amsterdam datacenter. CWVPS is constantly enhancing their services with new features, advancing their support team, and providing great services to thousands of customers globally.
CheapWindowsVPS's least expensive Windows/Linux VPS package offers:
Remember, you may be able to find an even better or different deal by browsing on LowEndBox for CheapWindowsVPS's latest offers – so be sure to check out the latest posts for CheapWindowsVPS!
Best Cheap VPS Hosting: LetBox
LetBox has been featured within the LowEndBox several times (their first feature on LowEndBox was all the way back in 2012 — they've been around for quite some time). LetBox is also a trusted host here on LowEndBox, because of their long tenure on our websites, which is an added bonus. We also believe LetBox is a popular choice within the community considering we've noticed in the past their stock levels depleted. Recently LetBox has focused their offerings on NVMe, which is a growing trend in the cheap VPS hosting marketplace because NVMe based storage offers IO speeds often times much higher than traditional spinning disks or standard SSDs. Given the growing demand for NVMe storage based cheap VPS offers we created a category on LowEndBox to highlight them specifically. 
LetBox's least expensive VPS package includes:
Also consider that you may be able to find a better deal by browsing on LowEndBox for LetBox's latest offers. Be sure to search through recent posts for LetBox!
If you're shopping for the least expensive VPS packages money can buy — for around $1/month, check out these awesome offers:
If you step up to $2/month you'll be surprised at these great VPS options, exclusively on LowEndBox:
Our community forum members on LowEndTalk have voted for the best, and sometimes cheapest, VPS hosting providers in 2019, and you can check the results out below:
2019 Best VPS Provider – As voted by the Low End Talk Community!
LowEndBox has also compiled a list of the best Cheap VPS offers hosted in Los Angeles, California: 
Best Los Angeles VPS Providers – Cheap VPS Hosting in Los Angeles, CA
Looking for the best Windows VPS? Looking for the best shared hosting or the best reseller hosting instead? You can find it all on our website at LowEndBox.com.