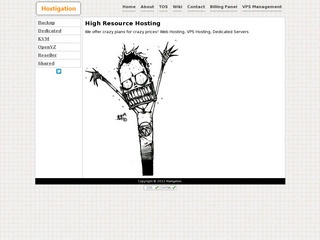 Most of our readers are probably familiar with LEB's original intent, doing more with less on a budget. As the industry changes, the offers here often look less and less like the "good old days." That's just the reality, you can't fight progress. However, when I think about the good old days of LowEndBox no one comes to mind quite like Tim from Hostigation. Tim has run one of the most steady and reliable services over the years. While everyone else was in a race to offer more resources for less money, Hostigation remained on track and continued to focus on a quality offering.
The Offer:
50GB Disk
1024GB Bandwidth
512MB Memory
512MB vSwap
1x IPv4 / 1x IPv6
$3.50/m
Promo Code: 30OFF4LIFE
The Network:
Los Angeles: Testfile / Test IP: 206.253.164.1 / CaroNet
North Carolina Testfile / Test IP: 69.85.88.1 / QuadraNet
Note that this offer was not submitted to us, I wanted to take a minute to focus on a provider who has been with us all of this time and still does great things. Take a moment to let us know how the service is treating you in the comments!