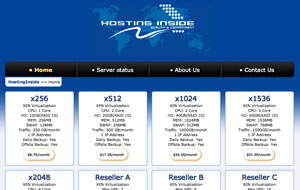 Joni from HostingInside has an offer running which doesn't require a code and is available in both Los Angeles and Maidenhead.
x256v2
256 MB RAM
128MB Swap
10 GB RAID 10 Disk space
250GB Bandwidth
100mbps Bandwidth Port Speed
1 vCPU
1 IPv4 & 1 IPv6 Address
SolusVM / XEN Virtualization
$5/month or $33.50/year
HostingInside were founded in 2004 and initially only offered IRC and web hosting. They have appeared twice before on Lowendbox and on their last offer, in February of this year, they received good comments about server performance and network speeds. Francisco also commented on the thread on how he had worked with Joni in the past and recommended him.
They don't allow IRC, Tor or Adult but they do allow VPN & Proxies. For a closer look at the Terms and Conditions click here. HostingInside do not offer any refunds. PayPal or payment through a Taiwan/Asian bank are the only accepted payment methods.
Network Information:
Los Angeles, USA
LA servers are located in the Quadranet datacenter.
AS Number: http://bgp.he.net/AS29761
Test IPv4: 173.254.202.100
Test File: http://us3-2.hostinginside.com/100mb.zip
Maidenhead, UK
Maidenhead servers are located in the Pulsant Datacenter.
AS Number: http://bgp.he.net/AS42831
Test IPv4: 78.110.173.194
Test File: http://uk1-2.hostinginside.com/100mb.zip