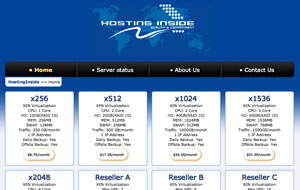 Joni, from HostingInside, has sent in a new and exclusive offer for LowEndBox readers. This offer is available in three different locations: Maidenhead, Los Angeles and Germany.
HostingInside have previously been featured a handful of times. Their last three offers have been the same, so it's refreshing to see a new offer! HostingInside are located in Taiwan and have been around for about 8 years, but Joni tells us that they're still not registered as a company. I found a benchmark of this plan from last year. You can view their server status / node specifications on this page. Unfortunately on their last offer, no reviews were left. If you're a customer, or become one, do share your experience with us!

HostingInside accept payment via Paypal. As for refund, Joni tells us that "Pro-rated credits are issued for unused services when customer retains any active service. Pro-rated refunds are issued if customer does not retain any active service and they are specifically requested via the cancellation form. All refunds are subject to a 10% of total refund amount for service charge." Servers are connected to a 100Mbps port. HostingInside do not allow Tor or Adult. They do however allow IRC, VPN, Proxies, Game Server & Radio. For more information, you can view their Terms and Conditions.
Network Information:
Los Angeles, USA – Quadranet datacenter.
AS Number: http://bgp.he.net/AS29761
Test IPv4: 173.254.221.101
Maidenhead, UK – Pulsant Datacenter.
AS Number: http://bgp.he.net/AS42831
Test IPv4: 87.117.211.46
Frankfurt, Germany – Unitedcolo Datacenter.
AS Number: http://bgp.he.net/AS13301
Test IPv4: 217.71.99.18