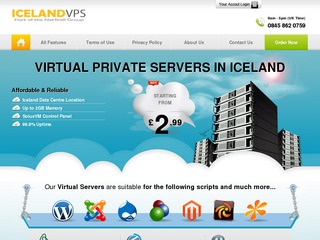 Chris from IcelandVPS emailed us last week with an exclusive offer for LowEndBox readers.
Exclusive Offer
512MB RAM
1024MB Burst Ram
50GB RAID 10 Diskspace
500GB Bandwidth
SolusVM/OpenVZ
1GBPS Network Port
2 vCPU Cores
1 IPv4 address
£2.99/Month – Order Link
Location: Harfnarfjordur, Iceland
IcelandVPS is a subsidery of NetStall Limited who were founded earlier this year in May. Their servers are located at the ThorDC in Iceland. IcelandVPS are not the first company on here to offer vps in Iceland; EDIS originally started the trend earlier this year followed by URPad. For those of you who don't know where Iceland is, Iceland is located north west of the UK in the Atlantic ocean.
They offer a full 7 day money back guarantee and a 99.9% Uptime guarantee. You can read their Terms of Services here and their privacy policy here. They take daily R1Soft backups and are expecting to have IPv6 available by the end of the year.
Network Information
IcelandVPS's servers are located in Harfnarfjordur, Iceland with ThorDC.
AS Network: http://bgp.he.net/AS44515
Test IPv4: 82.221.96.3
Test File: http://82.221.96.3/100mb.test