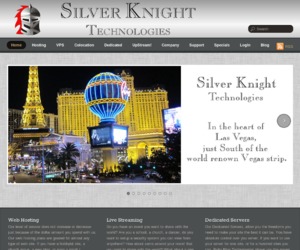 Anthony from SilverKnightTech has a dedicated server offer in Las Vegas, Nevada.
Dual Xeon 5140
2 x Intel Xeon 5140 Dual Core 2.33Ghz 64Bit, VT-x Supported.
4 GB RAM
160 GB SATA Hard Drive
10Mbps Unmetered Bandwidth (3300 GB)
1 IPv4 Address
Free Cacti Bandwidth Graphs
24 hour setup or less.
Las Vegas Datacenter
$39.95/Month – Order Link
We have recently raised our Maximum dedicated server price from $30 to $49. With that in mind, SilverKnightTech's 4GB dedicated special can now be listed (stock is limited). SilverKnightTech have been featured on here over the past two years, as a VPS provider, under three different brands: SilverKnightTech, Just295 and Ruby Ring Technologies. Anthony mentioned, on their last post, that they were forced to give up the RubyRingTech brand following the exit of some internal owners (RubyRing were a 5 year old company with no negative publicity).

Servers will be placed within SilverKnightTech's cage at the VegasNAP datacenter. Their cage is connected to backup power systems utilizing high-efficiency Mitsubishi UPS and Caterpillar diesel generators. We're told it's a secure facility with "dual authentication access control, video monitoring, and security monitoring". SilverKnightTech don't allow Warez, Torrents, Tor, Hate Sites, or Spam but Legal Adult Content is allowed. For a full list of what is acceptable, check out their Terms of Service. Cheques, Money Orders, Paypal, Visa, Master Card, and Discover are all accepted payment methods. They also have a 30 day refund policy for unused services.
Upgrades can be viewed on the order form or on the specials page.
Network Information:
Test IPv4: 72.46.159.253
Test File 10MB: http://72.46.159.253/10meg.zip
Test File 100MB: http://72.46.159.253/100meg.zip
Test File 1000MB: http://72.46.159.253/1000meg.zip