Ralph, from VPSSlim, has sent in two OpenVZ offers located in the Netherlands. Their pricing is in euros, so open to fluctuation. VPSSlim have been featured on LowEndBox four times before. We last listed VPSSlim in April of last year, when they had somewhat different offers (amongst which a yearly deal). These offers have a limited stock so they can be sure that both themselves and their existing clients don't get "flooded" by new orders. Ralph informs us that VPSs will be provisioned instantly. IPv6 is available and more IPv6 addresses are available for free. This month is also Double Bandwidth Month, so everybody that orders during March will get their bandwidth doubled for free! Reviews on their last offer are really mixed – some good and some bad. If you currently have a service with them, let us know how you're getting on!
The offers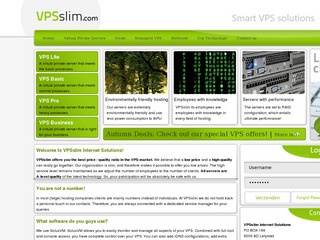 VPS LITE

2x CPU Core
256MB RAM
256MB vSwap
25GB disk space
1TB bandwidth
1Gbps uplink
1x IPv4 address
2x IPv6 address
OpenVZ/SolusVM
€2.99/month
Stock: 25

VPS BASIC

2x CPU Core
1024MB RAM
1024MB vSwap
100GB disk space
2TB bandwidth
1Gbps uplink
1x IPv4 address
2x IPv6 address
OpenVZ/SolusVM
€4.99/month
$48/year
Stock: 25
The final price will be visible when you click 'Checkout'.

VPSSlim accepts payments via PayPal, bank transfer, credit cards, cash-ticket, Click&Buy, DIRECTebanking/Sofortbanking, Giropay, iDeal, Maestro, Mister Cash, and BitCoin. Plenty of ways to send them your money, that is. They offer a a full 7 days money back guarantee and and provide a 99.99% Uptime guarantee. VPN is allowed for personal use only and TUN/TAP/PPP can be enabled via ticket. Adult hosting is also allowed. You can read their Terms of Service here.
Network Information
VPSslim own all of their hardware and equipment. Servers are colocated with Serverius in Dronten, Netherlands.
Test IPv4: 5.178.64.10
Test Files: http://speedtest.serverius.com/