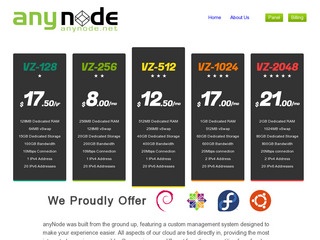 Seamus, from anyNode, recently got in touch with three plans to feature on LowEndBox. Unfortunately one of those plans exceeded our $7 limit, thus it couldn't be listed.
VZ-128

128MB RAM
64MB vSwap
15GB Diskspace
100GB Bandwidth
10Mbps Port
1 IPv4 Address
OpenVZ/Custom Panel
Coupon: LEB128
$15/Year | Order

VZ-256

256MB RAM
128MB vSwap
20GB Diskspace
200GB Bandwidth
10Mbps Port
1 IPv4 Address
OpenVZ/Custom Panel
Coupon: LEB256
$5.50/Month | Order
anyNode have never been featured on LowEndBox before, so welcome! They're owned and operated by Active Solutions Group, a registered Michigan corporation. They have over 10 years of experience working with virtualization, hosting, and general system management. Seamus tells us that their VPS plans have been under development for the past six months. anyNode are running nodes equipped with dual Intel Xeon L5520s, 36GB of DDR3, and 4 3TB disks in RAID10. IPv6 is available upon request via their helpdesk.

anyNode accept payment via Paypal. Their current VPS offerings are OpenVZ 2.6.32 based. Their control panel was developed in-house. Currently, only a limited frontend is available to customers, providing access to stop/start/reboot as well as reinstall and root password change. A fully featured panel is still under development and will be announced in the near future. For more information, have a read of their Terms of Service and Acceptable Usage Policy.
Network Information:
Servers are located at the Continuum datacenter in Chicago.
Test IPv4: 216.107.159.1
Test File: http://anynode.net/100mb.test