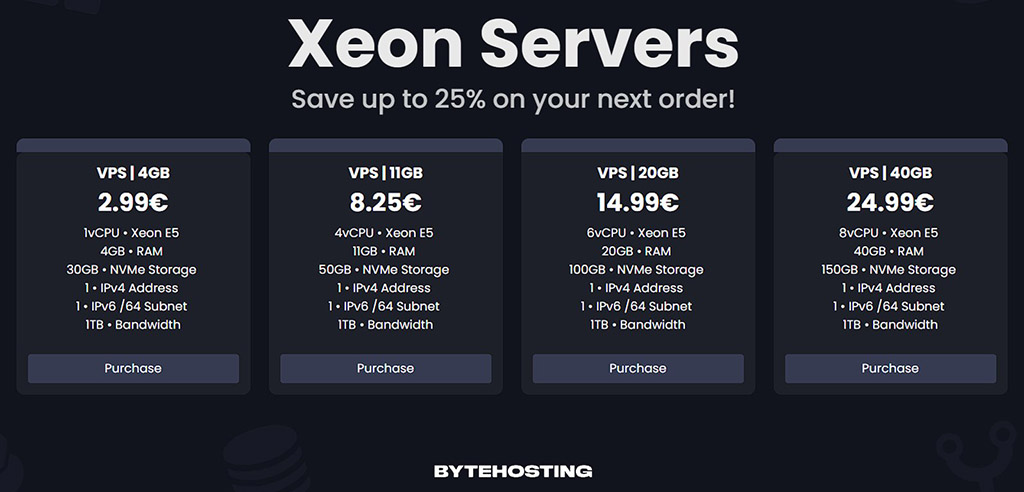 ByteHosting is back with another fantastic offer for us!
It's even more fantastic than last time!
Seriously, check this out!  Back in February, we posted an offer which features a 4GB VPS in Germany for only €3.99/month.  Now they're sharing a deal where the same system is only €2.99/month!  Even their deals on mammoth systems (11GB, 20GB, or even 40GB of RAM) are discounted!
If you're looking in Europe, these deals are too good to pass up.
Check out all their terms and conditions (TOS, PP, SLA) and you can check them out on TrustPilot also.  They accept PayPal or crypto.
Here's some more about ByteHosting:
At ByteHosting we offer the most affordable VPS Hosting on the market. With all the specifications you need. ByteHosting is the most affordable hosting on the market. But, why choose ByteHosting? We offer similar specifications as larger hosts, but at a fraction of the price. ByteHosting was founded at the end of 2021 to provide affordable hosting and quality hardware to users around the world. We are always working on how to improve the usability of our website and server panels and strive to be as transparent as possible about any changes we make to the network.
Datacenter Info
ITP FRA01 – Frankfurt am Main.
Test IPv4: 45.133.74.135
Host Info
2x Intel Xeon E5-xxxx CPU
256GB RAM
1 CEPH OSD
4x1gbit, 2x10gbit
VPS Offers
4GB RAM
1x vCPU
30GB HDD space
1TB transfer
1Gbps uplink
1x IPv4
/64 IPv6
KVM
2.99€/month (price after coupons/discounts)
[ORDER]
11GB RAM
4x vCPU
50GB HDD space
1TB transfer
1Gbps uplink
1x IPv4
/64 IPv6
KVM
8.25€/month (price after coupons/discounts)
[ORDER]
20GB RAM
6x vCPU
100GB HDD space
1TB transfer
1Gbps uplink
1x IPv4
/64 IPv6
KVM
14.99€/month (price after coupons/discounts)
[ORDER]
40GB RAM
8x vCPU
150GB HDD space
1TB transfer
1Gbps uplink
1x IPv4
/64 IPv6
KVM
24.99€/month (price after coupons/discounts)
[ORDER]
Latest posts by raindog308
(see all)