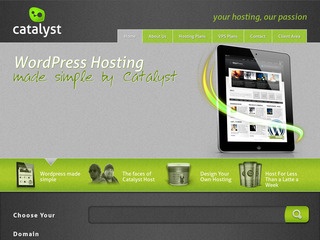 Jarland has emailed in these two offers. He explains on the email that CatalystHost has been restructured lately to ensure they can "continue to provide the same level of service that we've become known for, while nailing down our business plan to ensure that we could maintain the quality as we scale."
Micro

1 CPU Core
128MB RAM
128MB vSwap
10GB Diskspace
300GB Bandwidth
1Gbps Port Speed
OpenVZ Virtualization
$17/Year | Order Link
Location: Dallas, Texas

Trenta

4 CPU Cores
2048MB RAM
512MB vSwap
50GB Diskspace
1000GB Bandwidth
1Gbps Port Speed
OpenVZ Virtualization
$7/Month | Order Link
Location: Dallas, Texas
CatalystHost have been featured twice and are very popular on LowEndTalk. This was highlighted when they came a relatively high 11th on the 2012 Q4 top providers poll. Nodes are running with: 1 or 2 Xeon E5-2620 CPUs; 64GB ECC RAM; 8 x 500GB Enterprise SATA and a LSI 9260-8i w/BBU & 512MB Cache. Many providers are 'riding the lines' with hardware and are selling far more than is safe. CatalystHost keep their graphs live and public. I found this recent review and this review from November 2012; both are positive. How has your experience been?

Catalyst Host has been in business since early 2011. Continuing on from the first paragraph, they've recently closed their Denver location and have raised their standard prices. Jarland tells us that with "those higher prices comes a better ability to offer promotions". Each plan comes with 1 User Generated Backup. Client's data is backed up weekly, but these backups are not available on demand, and are only guaranteed to be made available if they're responsible for data loss (exceptions are made).
Network Information:
Servers are located at the Corexchange datacenter in Dallas, Texas. The network behind their Dallas location is multi-homed with multiple 10Gbit connections and redundant Juniper routing with HSRP failover.
Test IPv4: 192.211.54.101
Test File: http://192.211.54.101/100mb.test