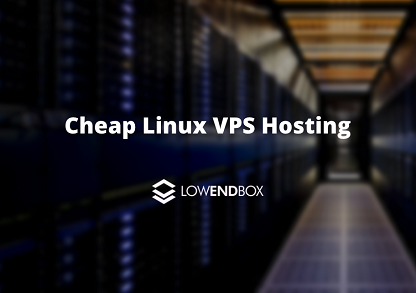 Looking for cheap Linux VPS Hosting? LowEndBox has all the best deals waiting for you from hundreds of different hosting providers all over the world. The best part is that Linux VPS hosting packages start at just a few dollars a month here at LowEndBox. 
On LowEndBox, hosting providers offer many different forms of Linux VPS hosted on different architectures and you get to decide what is best for you (price vs. performance). Check out our full guide comparing different types of Linux VPS hosting services to learn more about the pros and cons of each technology.
The cheapest packages are usually ran on OpenVZ technology which utilizes all of the resources of the underlying physical server in a shared pool for all virtual containers. This sharing technology means low prices.
If you would rather have dedicated resources on a more premium virtualization technology we recommend KVM based VPS services. On a KVM based system the RAM and hard drive space are not shared or over subscribed in any way, generally resulting in much better performance when compared to OpenVZ.
Looking for cheap Linux VPS hosting for around $1/month?
If you spend a little more, around $2/month you can check out these options:
Whatever VPS hosting service you pick be sure to leave your feedback in the comments below. We love hearing real life user experiences.
Latest posts by Jon Biloh
(see all)