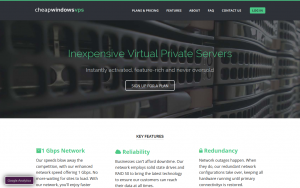 Tony, from CheapWindowsVPS, sent in a discount offer for their cheapest Windows VPS. CheapWindowsVPS was founded earlier this year, somewhere in February. The domain is a lot older (first registered in 2007), so I assume Tony bought it to start offering these services. Host nodes use dual Intel Xeon E5-2620v2 CPUs, have 160GB  of RAM, and are packet with 8x 1 TB Solid State Drives in RAID50 backed up by an LSI RAID controller. Needless to say, that is quite the beast of a machine. You also get plenty of disk space with this VPS. I haven't got much experience with Windows Server myself, but I think a good chunk of that disk space goes to Windows itself. However, with 40GB of disk space in total, there should be plenty of room for your own software and files as well. This offer is available in Los Angeles, California; and Chicago, Illinois, both in the USA. The IPv6 is unavailable at this time. If you decided to give CheapWindowsVPS a try, please let us know how it goes!
The offer
1 vCPU core
1GB RAM
40GB SSD space
1TB bandwidth
1Gbps uplink
1x IPv4 address
KVM/SolusVM
Windows Server 2008 or 2012
Coupon: HAPPY30
$7/month
CheapWindowsVPS accepts only PayPal for payments. They have a 72-hour no questions asked money back guarantee, so it's pretty safe to try them out. Additional IPv4 addresses are available at $1/IPv4/month and are now discounted 30% by using the same coupon you can use for the VPS. Please take the time to read their Terms of Service, as you agree to them when you sign up!
Network information
ColoCrossing – Los Angeles, CA, USA
Test IPv4: 23.95.26.2
Test file: http://23.95.26.2/100MB.img
ColoCrossing – Chicago, IL, USA
Test IPv4: 23.95.88.2
Test file: http://23.95.88.2/100MB.img