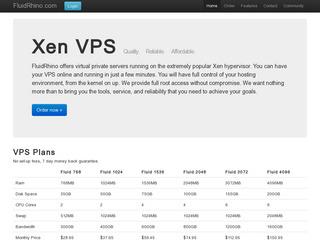 These days, we rarely receive offers which are hosted with Softlayer because of the prices Softlayer charge. But Ryan, from FluidRhino, has somehow made it economically possible and has therefore sent in their first offer for LowEndBox readers.
LEB HOT SALE
512MB RAM
512MB SWAP
25GB RAID10 DiskSpace
200GB Bandwidth
10Mbit Port Speed
1 vCPU
1 IPv4 Address
Xen/SolusVM
$7/Month – Promo code: 7LEBFORLIFE
Location: Dallas, Texas
FluidRhino LLC, is a Kentucky based hosting provider who launched in June this year. However they do inform us that whilst they're a pretty new company, they've got a "a wealth of experience having worked in the hosting industry for over a decade". This promotion is valid for the first 15 Signups only. However, if all goes well then let's hope they send in another offer sometime soon. The plan normally retails for $19.95/month but with this offer the promo code 7LEBFORLIFE reduces it to $7 recurring for the lifetime of your account. As this is their first offer, we'd be interested to hear from you if you've had a service with them.

All their virtual servers have RAID10 courtesy of an Adaptec RAID controller and their diskspace is provided via 6 enterprise grade disks. Unfortunately with this offer, additional IP's are not available. For now there are no backups included, but they will be available for additional purchase at a later date. At present, they're only accepting payments via PayPal and Credit Cards. They offer a 7 day money back guarantee. Do have a read of their Terms of Service for further information.
Network Information:
Servers are located with Softlayer in Dallas, Texas.
Test IPv4: 174.121.238.139
Test File: http://www.fluidrhino.com/linux-3.2.35.tar.bz2