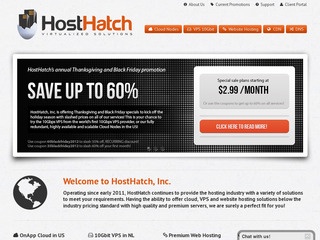 Following the success of their cybermonday offer which sold out completely: Abdullah, from HostHatch, is back with a their third offer for LowEndBox readers.
Offer 1 (VPS)

1 x 2.1 GHz CPU
384MB RAM
512MB Burst
25GB Raid-10 HDD Storage
1Gbps port
3TB bandwidth
1 IPv4 Address
OpenVZ/SolusVM
$7/Month or $48/Year.
Order link – SmartDC, Netherlands.

Offer 2 (Cloud Server)

1 x 2.2 GHz CPU
384MB RAM
6GB SAN storage
2GB Backup
250Mbps port
5TB bandwidth
1 IPv4 Address
OnApp/Xen
$7/month or $48/year
Order link – C7, USA.
HostHatch have been operating for the past 20 months and are registered company in Tampa, Florida. They've warned us that there are only 35 OpenVZ VPS and 25 Xen 'Cloud' Servers available. The offer was originally sent in to celebrate New Years day but wasn't posted due to the other offers we were running. This offer will therefore expire on the 5th January however, it is worth noting their last offer was sold out completely within two days. On their last offer, feedback was mainly good except for one person who wasn't happy they wouldn't offer him a refund.

Each plan can redeem two free Comodo SSL certificates and an AnyCast DNS for 100 domains by submitting a ticket (50GB of free CDN bandwidth will also be given if your plan is paid for a year). They offer a 7 day money back guarantee but only if the problem is 'on their side' (downtime, etc) and not a personal reason like "I found a better deal somewhere else". PayPal, Credit Cards, Payza (on request) and bank transfer (on request) are the only accepted payment methods at present. For more information, you may want to read their Terms of Service, Acceptable Usage Policy or Privacy Policy.
Network Information::
Dutch servers are located with i3D at the SmartDC in Rotterdam, Netherlands.
Test IPv4: 109.200.206.85
Test File: http://109.200.206.85/test1gb.file
American servers are located with C7 Data Centers in Utah, United States.
Test IPv4: 198.105.209.13
Test File: http://198.105.209.13/test1gb.file