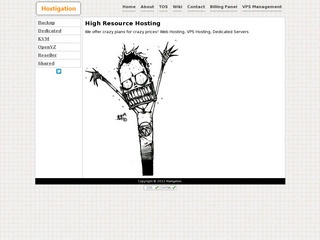 The Christmas deals are starting to come in full swing with only 4 days left! This time, Tim from Hostigation, has sent in his Christmas offer with a nice discount on his OVZ-512 plan.
OVZ-512

512MB Guaranteed RAM
1024MB Burstable RAM
50GB Disk Space  (SSD Cached+RAID10)
1000GB Bandwidth
1Gbit Port Speed
1 CPU Core
OpenVZ/SolusVM
1 x IPv4 & 1 x IPv6 address
$30/Year – with coupon XMAS2012
Location: Los Angeles, CA
Hostigation have only been featured here a few times before, with their last offer being posted in June 2011. This is mostly because Tim rarely does offers apart from at Christmas time. This particular offer is valid until the 1st of January 2013. Hostigation were founded in 2006, so with around 6 years of good service and reputation, it's no wonder that they're well established and highly regarded in the "Low End" market and the hosting industry in general. They came second in the top providers poll of Q3 2012 and are currently polling quite high in our Q4 Poll.

Tim's Do's And Don'ts (Acceptable Use Policy) for his services are epitomized by his well known "don't be a dick" phrase. They accept payments via PayPal, Google Checkout, Amazon Simple Pay, Payza and BitPay. It is also worth noting that they have a 7 day refund policy. Their Terms of Service are clearly set out so be sure to read them before you happen to sign up!
Network Information:
Servers are colocated with QuadraNet in Los Angeles, California.
Test IPv4: 206.253.164.3
Test File: http://hostigation.com/100mb.bin