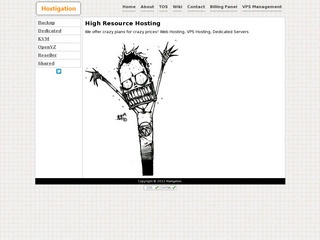 This is another post where we pick providers outside our ticketing system. As Maarten gave me another spot to choose a host I wish to feature, I am selecting one that is special to me personally. In my perspective, I don't buy services from a company – but from the owner/people behind the service. That is why we sometimes leave a specific provider when it is bought by another. We get the feeling that it is not the same when there is change of ownership.
Having said that, in my opinion, one of the most knowledgeable and trustworthy person in LEB/LET is Tim Flavin of Hostigation. Community reviews of his service are very positive. I have been a customer, and I only have good things to say about him and his company.
I am sharing below one of Hostigation's current promotion listed at LowEndTalk. This is a promotion for their Proxmox platform and the coupon code 30OFF4LIFE gives 30% discount and 10% account credit for any bitcoin payment.
Proxmox OpenVZ VPS
512MB RAM
512MB vSwap
1 CPU Core
50GB Disk Space
1024GB Bandwidth
OpenVZ
1 x IPv4
1 x IPv6
$5/month
$3.50/month using coupon 30OFF4LIFE
The above configuration is what's included for the mentioned price. Memory, vSwap, CPU Cores, Disk Space and bandwidth can be adjusted for additional cost. Hostigation is also offering other types of service. You may check their website for details.
Acceptable payment options are PayPal, Credit Card via PayPal, Credit Card via Stripe, BitCoin, Check/Money Order (US Funds drawn on US Bank). Additional IPv4 address are available for $2/mo (with justification), while extra IPv6 are of no charge. Although we highly recommend Hostigation, we strongly encourage that you read their Terms of Service before making any purchase.
Network information
Charlotte, NC, USA
Test IPv4: 69.85.88.1
Test file: http://lowendvps.hostigation.com/100mb.bin
Latest posts by Jonathan Tan
(see all)