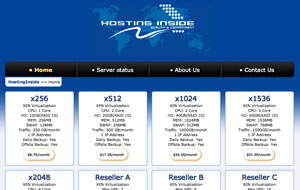 Joni, from HostingInside, has sent in another offer which is very similar to their last offer, but this time it's available in Frankfurt as well as Los Angeles and Maidenhead.
HostingInside were founded in 2004 and have been featured several times on LowEndBox. Their most recent offer was published in December 2012 for an identical plan. A user called 'Will' shared his experience with HostingInside on the last offer which, in a nutshell, was quite positive. It would be great if more customers could tell us about their experiences. They are using servers with either an E3-1230, E31230 V2 or and E3-1240 CPU; 16GB DDR3 RAM and 4 x 1TB drives in Raid 10.

Whilst HostingInside inform us payments are accepted through Paypal, according to Will, Paypal payments are actually made through 2CheckOut. Pro-rated credits are issued for unused services when customer retains any active service. Pro-rated refunds are issued if customer does not retain any active service and they are specifically requested via their cancellation form. All refunds are subject to a 10% of total refund amount for service charge. Tor and Adult content is strictly forbidden but VPN, IRC, Game Servers, Radio & Proxies are allowed.
Network Information:
Los Angeles servers are located in the Quadranet datacenter, Maidenhead servers are located in the Pulsant Datacenter and Frankfurt servers are located in the Unitedcolo Datacenter.
LA
AS Number: http://bgp.he.net/AS29761
Test IPv4: 173.254.221.101
UK
AS Number: http://bgp.he.net/AS42831
Test IPv4: 78.110.173.194
Germany
AS Number: http://bgp.he.net/AS13301
Test IPv4: 89.163.181.181