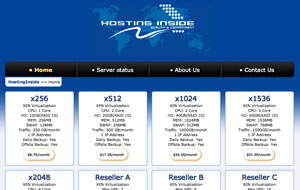 Joni, from HostingInside, has an offer running which doesn't require a code and is available in either Los Angeles or Maidenhead. If you'vee sworn you've seen this offer recently, it may be because they've posted it on LowEndTalk, WebHostingTalk, wjunction, WHT Australia and DigitaPoint.
X256v2
256 MB RAM
128MB Swap
10GB Diskspace Raid 10
250GB Bandwidth
100mbps Bandwidth Port Speed
Xen/SolusVM
1 vCPU
1 IPv4
1 IPv6 Address(US only)
$5/month or $33.50/year
HostingInside were founded in 2004 and initially only offered IRC and web hosting. They have appeared three times before on LowEndbox, with their last post coming back in September. Interestingly enough, it appears they're based in Taiwan so I presume they provide support in Mandarin which could be very helpful for Taiwanese and Chinese clients. Host nodes are equipped with: either an E3-1230, E31230 V2 or and E3-1240 CPU; 16GB DDR3 RAM and 4 x 1TB drives in Raid 10. They have a nice server status page which shows that all of their nodes have been up for at least 170 days – which is always a good sign.

They don't allow Tor or Adult but they do allow VPN, IRC, Game Servers, Radio & Proxies. At present, PayPal and credit cards are the only accepted payment methods. HostingInside don't offer any refunds but according to their website, if you contact them, you can trial one of their services free of charge for up to 2-3 hours. For more information, you may want to read their Terms and Conditions.
Network Information:
Los Angeles, USA
Los Angeles servers are located in the Quadranet Datacenter.
AS Number: http://bgp.he.net/AS29761
Test IPv4: 173.254.202.100
Test File: http://us3-2.hostinginside.com/100mb.zip
Maidenhead, UK
Maidenhead servers are located in the Pulsant Datacenter.
AS Number: http://bgp.he.net/AS42831
Test IPv4: 78.110.173.194
Test File: http://uk1-2.hostinginside.com/100mb.zip