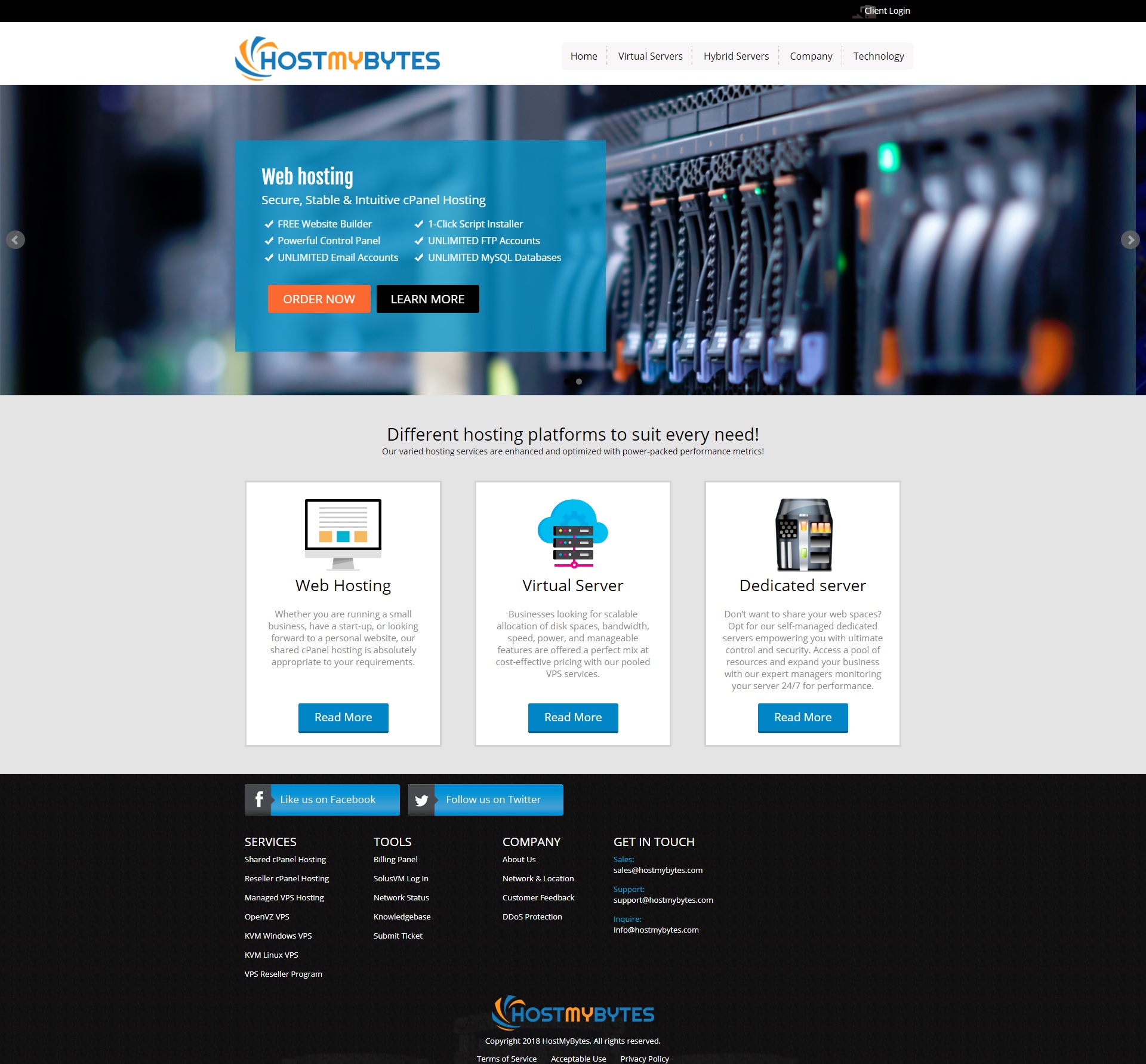 Jonathan from HostMyBytes is back with the most attractive offers they have ever done for us! Their offer is available in 3 locations which includes Los Angeles, Chicago and London!
Here's what they had to say:
"HostMyBytes was born out of necessity, and today is well over three years old. We created HostMyBytes to fill our own needs for excellent hosting services. Then we decided to share our vision, processes and high standards with the world. Web hosting is what HostMyBytes does, and we strive to do it consistently better than any other company."
***Want a freebie? Well you got it, they stated our readers just need to open a ticket after your order, mention you're from LEB, and they will provide you with a free month on any plan that you order, so long you mention you're from LEB***
1.5GB VPS Pool

1.5GB RAM
2 CPU Cores
30GB HDD
2TB Bandwidth
1Gbps Uplink
Create 2 VPS's
2 x IPv4
400 x IPv6
OpenVZ
$18/yr
[ORDER]

2GB VPS Pool

2GB RAM
3 CPU Cores
60GB HDD
3TB Bandwidth
1Gbps Uplink
Create 3 VPS's
3 x IPv4
400 x IPv6
OpenVZ
$21/yr
[ORDER]

4GB VPS Pool

4GB RAM
5 CPU Cores
150GB HDD
5TB Bandwidth
1Gbps Uplink
Create 5 VPS's
5 x IPv4
400 x IPv6
OpenVZ
$30/yr
[ORDER]

8GB VPS Pool

8GB RAM
10 CPU Cores
250GB HDD
15TB Bandwidth
1Gbps Uplink
Create 10 VPS's
10 x IPv4
400 x IPv6
OpenVZ
$59/yr
[ORDER]

12GB VPS Pool

12GB RAM
12 CPU Cores
400GB HDD
20TB Bandwidth
1Gbps Uplink
Create 12 VPS's
12 x IPv4
400 x IPv6
OpenVZ
$99/yr
[ORDER]
HostMyBytes started offering VPS services back in 2014. Jonathan told us that they have over 1,000 active customers and that they are growing fast. For those interested, their WHOIS information is public. HostMyBytes supports payment through PayPal, Credit Cards and Bitcoin. They offer a 30-day refund guarantee to all new customers, so it is fairly safe to try their service. An interesting note, their support statistics is shown in their about page. Based from the data, it seems their support is pretty good. Kindly read their Terms of Service, Acceptable Use and Privacy Policy before making any purchase.
Host Node Specifications
– Dual Intel Xeon E5's or Intel Xeon E3's
– Minimum 32GB to 64 GB RAM
– 4x 2TB Enterprise Drives
– Hardware RAID10 with CacheVault
– 1Gbps uplink
Network information
Los Angeles, CA, USA
Test IPv4: 204.152.218.25
Chicago, IL, USA
Test IPv4: 104.129.31.245
London, UK
Test IPv4: 217.146.91.6
Please let us know your feedback and if you have any questions/comments!