What happens when you introduce decentralized internet like Tor and decentralized cryptocurrency to a society right around the same time?
It opens up the gates to what I could only call a wild west level of internet, with quite literally no rules other than rules the webmaster themselves set.
This lead to a ton of dark web sites opening up for various purposes, some of them being for transactional purposes, some streaming, some conversational, whatever.
Often times the webmasters didn't yet truly understand how everything worked yet, either.
For example:
In the early days of cryptocurrency, many considered Bitcoin to be anonymous and unable to be traced without even thinking about the fact the United States government has all the time in the world and Bitcoin has a public ledger.
(Now some darknet markets exclusively require Monero, a cryptocurrency with a non-public ledger.)
Almost none of the darknet markets in the early 2010's took that fact into true consideration.
But let's not get ahead of ourselves here, first you need to know who Ross Ulbricht really is and why he'd even be interested in opening up a darknet market.
Meet Ross Ulbricht.
Born March 27, 1984 in Austin, Texas, Ross grew up entirely in Texas. Typical middle class child hood, boy scouts and a college degree (physics, to be specific) from the University of Texas and all.
It wasn't until right around the time he graduated from college he started getting inspired by libertarianism, from the likes of people like Ludwig von Mises or Ron Paul.
After finishing his masters degree, he gave day trading and running a video game company a shot, with both failing.
Eventually, he tried to open an online book store named Good Wagon Books with his friend (still available on his public LinkedIn), which never ended up taking off, but it did plant the seed for Silk Road.
The birth of Silk Road.
In Ross's personal journal the idea he wrote down for Silk Road was "where people could buy anything anonymously, with no trail whatsoever that could lead back to them."
He almost achieved that.
Even further, on the same LinkedIn page mentioned earlier, his "about" says:
I love learning and using theoretical constructs to better understand the world around me. Naturally therefore, I studied physics in college and worked as a research scientist for five years. I published my findings in peer reviewed journals five times over that period, first on organic solar cells and then on EuO thin-film crystals. My goal during this period of my life was simply to expand the frontier of human knowledge.

Now, my goals have shifted. I want to use economic theory as a means to abolish the use of coercion and agression amongst mankind. Just as slavery has been abolished most everywhere, I believe violence, coercion and all forms of force by one person over another can come to an end. The most widespread and systemic use of force is amongst institutions and governments, so this is my current point of effort. The best way to change a government is to change the minds of the governed, however. To that end, I am creating an economic simulation to give people a first-hand experience of what it would be like to live in a world without the systemic use of force.
If you really read between the lines, that's almost a confession.
Anyways, he did take action on that idea (obviously, or this wouldn't be an article).
Thus, Silk Road was born on Tor.
Call me Roberts, Dread Pirate Roberts.
After creation, Ross went by the name "Dread Pirate Roberts" — and this was ultimately his downfall.
Yep, a name.
Of course it wasn't an issue at first — the site caught on very quickly. A pioneer of it's kind (nowadays there's at least 10 big darknet markets operating at any given time), there really was no true competitors during it's run.
It was the site to go to when you wanted to get the goods delivered to your door, and plenty used it.
But attention doesn't discriminate. Once momentum started building for Silk Road, the government took notice.
The IRS took down Silk Road, no joke.
Gary Alford, an IRS agent assigned to a DEA task ford was assigned to work the Silk Road case.
His original task started out by chasing low level leads and vendors on the site, but he kept being lead to Dread Pirate Roberts, the founder.
He scavenged the web with various search queries looking for information, and eventually found a chat room where a user named "altoid" mentions Silk Road, describing it as an anonymous Amazon shortly before the market went online.
The rabbit hole was opened with that discovery and he followed that username "altoid" to a post asking for programming help where Ross exposed his email address "rossulbricht@gmail.com."
It was at that point his cover was truly blown, but Gary still needed to convince powerful enough people that Ross was indeed Dread Pirate Roberts.
Gary did his research, discovering the LinkedIn mentioned above and that was enough for him to mention it to his supervisors… to deaf ears.
Nothing happened, in fact Ross had already been ruled out as a suspect.
Gary realized he was extremely low on the totem pole, and after trying to escalate things Gary realized they wanted Dread Pirate Roberts. Meaning, that was the link. In order for an arrest to be made, the prosecutor in charge wanted a strong link to the admin username.
In a last ditch effort, Gary asked for another background check to be ran, which lead to something major…
Seized fake ID's at customs.
Ross had ordered 9 fake ID's that were stopped at the border which lead to agents visiting his home, during which Ross quite literally told them that hypothetically anyone could get fakes from a new website called Silk Road.
This was all documented.
Gary then called back to the prosecutor and explained all of this, and this was enough for him to bite. He was put under full surveillance.
It didn't take long after that for the case to be cracked wide open, after further research from the prosecutor Ross's home address was a few hundred feet from the address of a café Ross used to log into the account of Dread Pirate Roberts.
Shortly after that discovery, Ross was arrested in 2013 in a library in San Francisco.
Agents faked being fighting lovers to distract him and seize his laptop while it was open, too.
Which was ultimately all they needed in terms of evidence to get a conviction.
The trial.
On February 4, 2014 Ross was formally charged. I'm not even going to bother to list the charges, but they were along the lines of kingpin charges, as you could expect.
He was charged with enough various charges he was doing a very, very long time even with a perfect lawyer and plea deal.
In most senses, the trial never really mattered — the case was about making a statement against the dark web and cryptocurrency as a whole.
They would have charged him with whatever it took to accomplish sending that message (which obviously did not work since there's more darknet market's than ever).
Before sentencing, Ross wrote the judge a letter.
In it, he said:
Silk Road was supposed to be about giving people the freedom to make their own choices, to pursue their own happiness, however they individually saw fit. It turned out to be a naïve and costly idea that I deeply regret.
It didn't matter at all though, nor did his lawyer.
Because on May 29, 2015 as a first time nonviolent offender he received a double life sentence, plus 40 years, without the possibility of parole.
They also tried to charge him for a murder-for-hire which was an entirely separate case, but it was ultimately dropped (so I'm not going to discuss it).
He remains in prison to this day.
Nothing much has happened since sentencing.
After many appeals, he's had no luck.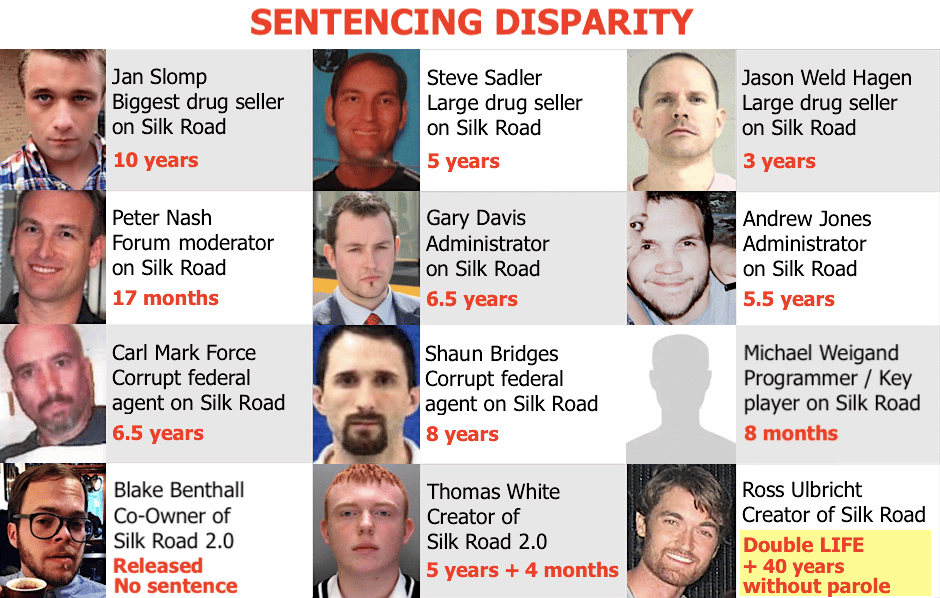 Most surrounding this case are either now free, or were never imprisoned.
And… the government didn't stop anything at all, really.
There's more darknet markets and drug addicts than ever, plus, a couple more people to pay for to feed in prison.
That's the war on drugs for you. Nobody wins.
What's your opinion on Ross and Silk Road?
Let me know below.