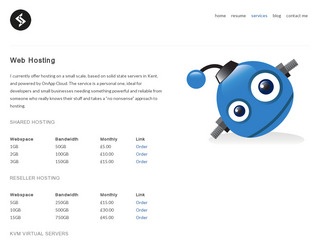 James, from JHWC, has sent in this exclusive quarterly offer located in Maidstone, Kent (UK). As they have quite a bit of RAM spare, they've came up with this offer for LowEndBox readers.
768MB SSD VPS
768MB RAM
1024MB SSD SWAP
5GB SSD Diskspace
2 CPU Cores
150GB Bandwidth
100Mbps Port Speed
KVM/OnApp
1 IPv4 Address
1 IPv6 Address
£12.75/Quarter – Order Link
JHWC are a UK sole trader and are tax registered but not for VAT. JHWC have previously appeared once under this brand but they've been featured under other names in the past. Their nodes are using the Intel Xeon E3-1240V2, 32GB RAM and 4 Intel 520 SSDs in hardware RAID 10 (Adaptec 6805). Each vps comes with access to a free, DDoS Protected, AnyCast DNS service for your domain names as well as 100GB of free CDN Bandwidth to use with WorldCDN. Reviews on older offers all seem positive, reinforcing the one provided by them on their site.

JHWC accept payments via paypal, and for UK buyers via Gocardless & BACS. Refunds are only offered when there is a serious problem, but a 99.9% uptime guarantee is provided. Self-restorable backups are taken on a weekly basis. They allow anything that's legal in the UK and donesn't hammer the server. As usual, have a read of their Hosting Terms before signing up.
Network Information:
Servers are located at the Custodian datacenter in Maidstone, Kent.
Test IPv4: 91.227.221.134
Test File: http://test.jhwc.net/100mb.test