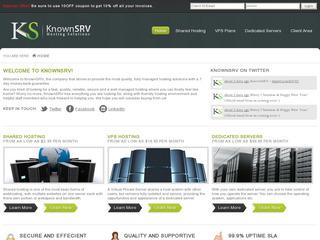 Kruno, from KnownSRV, has emailed in an exclusive offer, which uses the highly rated LeaseWeb network, for LowEndBox readers.
LEB Package
256MB RAM
256MB vSWAP
20GB Raid 10 Diskspace
200GB Bandwidth
1 IPv4 Address
1 CPU Core
1Gbps Port Speed
OpenVZ/SolusVM
$6.96/Month – Coupon LEB
Location: Haarlem, Netherlands
KnownSRV LTD were founded in 2010 and have been providing businesses around the world with "reliable, professional-class network environments to host websites, email, business applications, and other rich content." According to their website, virtual servers will be provisioned on a Supermicro server with an Intel E3-1230 CPU and 4x SAS 15k RPM drives in hardware RAID10. This is the first time that KnownSRV have been featured on LowEndBox, so I hope I speak for all of you when I urge anyone who has had a service with them to share their experience with KnownSRV below.

Whilst their network supports native IPv6, they are currently waiting to be allocated their own IPv6 space and expect to have it up and running within a month. KnownSRV accept payments via PayPal, Skrill (Moneybookers), PayZa (AlertPay), LibertyReserve, WebMoney, 2CheckOut (credit/debit cards), Westarn Union (on request) and bank transfer (on request). They also have a 7 day money back guarantee, providing your reason is valid and justified. IRC, VPN and adult is allowed but TOR exit nodes are not allowed. As always, be sure to check their Terms of Service before signing up.
Network Information:
Servers are located at the EvoSwitch datacenter in The Netherlands. They use LeaseWeb's network but they own their own IPv4 space. Their network is built from redundant Cisco routers and Juniper switches which allows them to "guarantee a 99.9% uptime".
Test IPv4: 194.145.208.254
Test File: http://194.145.208.254/100mb.test