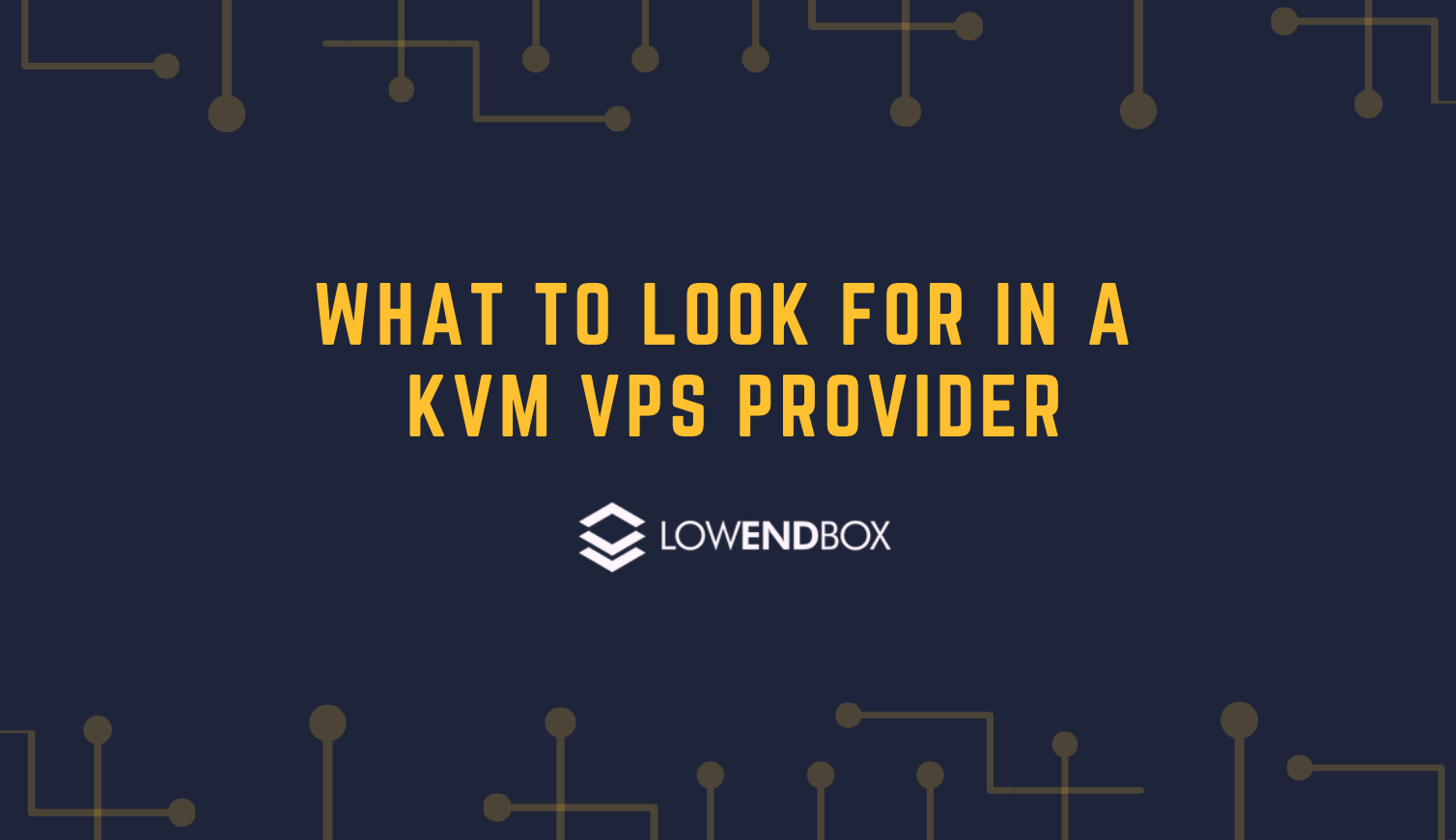 This article was contributed by Dustin B. Cisneros from RackNerd, a seasoned and knowledgeable contributor of the hosting industry for 12+ years. Whether you are looking for shared hosting, reseller hosting, KVM VPS, dedicated servers, DRaaS, colocation, or managed services!
Say you're in need of a cheap KVM VPS hosting service — one question that comes into mind is, how do you find the right one for you? Is there any particular characteristic to look for in a KVM VPS provider?
Provider Track Record, Engagement & Feedback
It's essential when looking for a KVM VPS provider that you look for one with a stable track record, this means searching LowEndBox and other hosting resource websites for the preferred provider of your choice. You can do so on LowEndBox by searching the provider name on the top right. Here is an example of one of RackNerd's KVM VPS offering here on LowEndBox. 
Due diligence action items can include checking past LowEndBox comments, how engaged the provider is with users/feedback, etc. What feedback do you see? A provider lacking engagement publicly, especially for something targeted (i.e. marketing on LowEndBox, or other hosting resource related sites) probably won't be so active in their helpdesk either. You may not know it, but providers request to be "listed" or "featured" on LowEndBox and sites alike. So if they're requesting this and are not active, be cautious!
Redundancy / Server Hardware
LowEndBox when featuring providers will list the hardware specs provided by the listed provider. This will help you in your search and helps provide a basic understanding of the infrastructure you will be deployed on.
Look for a provider who deploys KVM VPS based upon healthy host nodes, i.e dual CPU's, sufficient fast storage, RAM, and redundancy. Do they use RAID-10? This is crucial to ensuring stability in the event a drive fails. If the provider is running RAID-10 the good news is that the failing drive can be replaced without any data loss and most of the time without downtime! 
Network
How is the provider's network? Look for their test IPs/files within the LowEndBox listing for that provider and see if the latency and speeds work for your intended usage and audience. In addition, look for a provider who runs a multi-homed network. Hosting with a provider that operates a single-homed network can mean that if the ISP has an outage, your KVM VPS will experience network issues due to no redundancy from a transit standpoint. You will receive much more peace of mind by hosting with a provider that operates a multi-homed network, which means there are multiple ISP's in the network blend, eliminating any single point of ISP failure. Of course, when talking about network redundancy it is best to discuss this with your preferred provider, to learn how they've designed their network. Do the network cabs have A+B power? Including the cabinet, your KVM VPS would be deployed in? Is there redundancy from the switch and router level? What is the provider's network uptime SLA? Of course, the goal is not to make your search anymore difficult, the goal is to ensure you're comfortable with your next KVM VPS purchase.
Support
While things are running smoothly like they should be most of the time, you won't really have to interact with support. But it's important to know that support is and will be there whenever you need them, and as such, look on the provider's website to see if they provide 24/7 support, and if so via what channels. Is support available by support ticket, email, phone, live chat, or only one? The more communication channels a hosting provider has readily available is probably the more apt they will be to answer requests.
Social Media Engagement
Is the hosting company active on social media – i.e. Twitter, Facebook, LinkedIn, Instagram? Not every hosting provider is engaged with social media, so this should not necessarily be a solid requirement to look out for, but rather a tool you can check to get a better understanding and feel for how engaged the provider is with the public. Some providers will also use these channels to communicate with their end-users during outages, and or assist end-users who prefer social media for escalations.
Feel free to test the provider's support, ticket in, inquire, don't be afraid to ask them how long they have been in the industry, in the business, and their long-term goals/vision? What makes them special, and unique? What locations do they have available? Some of these will help in your decision making! We hope your next KVM VPS purchase is from a LowEndBox provider!
Latest posts by Jon Biloh
(see all)