In April we published our first poll in nearly 11 years, asking our Users "What they Use their VPS for?" and despite the early voting being broken we had over 500 votes in just a week.
While voting will remain open we grabbed the results as of April 18th (after 7 days of voting and 498 votes) and wanted to share the data with you.
Not surprisingly web and application hosting came in first with 31% of the vote followed by VPN and Proxy at 21% and then in third position was hobby use at just under 19%.
Check out the results below: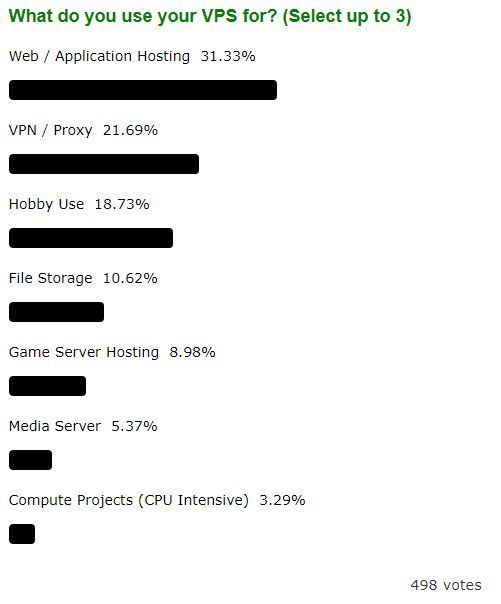 The first take away here is that the most popular answer suggests that Low End Box users are utilizing their services for type of commercial purpose through their hosting of web or other applications. That was higher than expected.
Given that the world is still recovering from the COVID-19 pandemic, and that has resulted in massive increases to internet usage — in large part having to do with an increase in streaming — "Media Server" resulted in only 5.37% of the votes and was lower than expected. Especially with great software like Plex to manage your personal media library we would have expected more users purchasing Low End Boxes for their media collection. For those not familiar with Plex, in May we published a tutorial for installing the package onto your Low End Box.
Thanks to everyone who took a moment to participate in our first Poll in a decade! Hope to see continued high engagement in our future polls!
Latest posts by Jon Biloh
(see all)