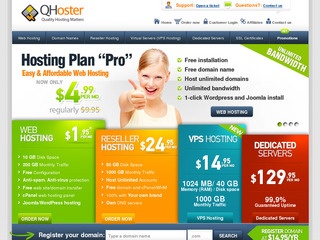 Dimitar from QHoster has an exclusive offer for LowEndBox readers available in either Germany or the USA.
OpenVZ 1024MB LEB
1024MB RAM
256MB vSwap
50GB Raid10 Diskspace
1000GB Bandwidth
1Gbit Port Speed
SolusVM/OpenVZ
1 CPU Core
1 IPv4
$6.99/Month – Order Link
Düsseldorf, Germany | Maidenhead, UK | New York, USA |Phoenix, USA
QHoster have been around since 2004, however, this is their first post on LowEndBox. Since May they've been active on LowEndTalk; posting eight offers. We couldn't find any reviews regarding Qhoster but someone did give them a point on the q3 top providers poll. This offer is limited to only 30 VPS plans, so if you're interested you may want to purchase as soon as possible to avoid disappointment. German nodes are equipped with Intel(R) Xeon(R) CPU E3 1240 CPU's and Phoenix has Intel(R) Xeon(R) CPU E3 1270 CPU's. New York is connected to a 1Gbps line. Click more to read on.

They are not currently offering IPv6, but are willing to allocate a maximum of 10 IPv4's per vps for $2/Month per IPv4. Payment methods which are accepted are: Credit/debit cards, PayPal, Skrill (Moneybookers), Payza (Alertpay) and Liberty Reserve. As for their return policy, at times they do a full refund if the complaint is justified. They have a zero tolerance for spam and a huge list of Do's and Don'ts; so be sure to check out their Terms of Service.
Update: IPv6 is now available in Maidenhead, New York and Germany. 10 IPv6 addresses will be provisioned per service in these locations.
Network Information:
Düsseldorf, Germany.
Test IPv4: 83.136.86.131
Test File: http://speedtest-germany1.qhoster.com/100mb.bin
Phoenix, Arizona.
Test IPv4: 108.170.26.186
Test File: http://speedtest-usa1.qhoster.com/100mb.bin
Maidenhead, United Kingdom.
Test IPv4: 82.145.57.2
Test File: http://speedtest-uk1.qhoster.com/100mb.bin
New York, New York.
Test IPv4: 64.237.33.106
Test File: http://speedtest-usa3.qhoster.com/100mb.bin