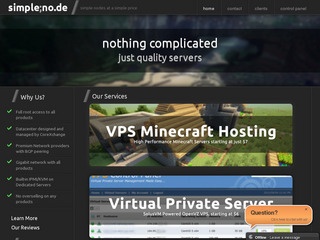 Edward from SimpleNode has sent in his first ever offer for LowEndBox readers. He is offering two OpenVZ VPS plans based in Dallas with Incero (CoreXchange Datacenter).
LowEndBox 256MB

256MB RAM,
256MB

vSwap

15GB Diskspace
1

vCPU

OpenVZ

/

SolusVM

500GB Bandwidth
Shared

Gigabit

port
1 IPv4
$3.50/Month – Order Link
Location: Dallas, Texas

LowEndBox

512MB

512MB RAM
512MB

vSwap

30GB Diskspace
2TB Bandwidth

OpenVZ

/

SolusVM

Shared

Gigabit

port
2 vCPU
1 IPv4
$6.00/Month – Order Link
Location: Dallas, Texas
Whilst SimpleNo.de has only been operating for three months, they are already well established within the LowEndTalk community with over 400 posts. Their nodes comprise of Xeon E5-2620 CPUs with 4x 1TB WD Black drives in software RAID10. For now, IPv6 is not available and is not currently planned by their upstream provider. IRC is allowed for legitimate use only and VPNs are permitted for private use only. TUN/TAP may be enabled via a ticket but Tor exit nodes, torrents and Adult content is strictly prohibited. To read their full Terms and Conditions; click here.

Refunds are issued on a case by case basis. Promotion expires once stock runs out. As they're a new company; please share any experiences with them below.
Network Information:
Servers are located in Dallas, Texas with Incero at the CoreXchange Datacenter.
AS Number: http://bgp.he.net/AS13354
Test IPv4: 23.29.127.98
Test File: http://lg.simpleno.de/100MB.test
Looking Glass: http://lg.simpleno.de