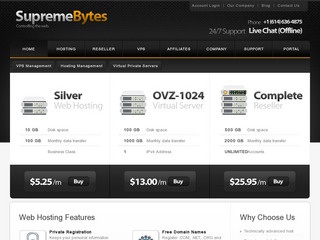 Damien, from SupremeBytes, has got two new OpenVZ offers, in two different locations, for LowEndBox readers. You can use the coupon code leb-09-2013 for 35% off your first invoice on any of our product lines.
OVZ-256

256MB RAM
1 CPU Core
20GB Diskspace
200GB Transfer
1 IPv4 Address
Gigabit Port
OpenVZ/SolusVM
$4/Month – Order Link

OVZ-512

512MB RAM
1 CPU Core
50GB Diskspace
500GB Transfer
1 IPv4 Address
Gigabit Port
OpenVZ/SolusVM
$7/Month – Order Link
SupremeBytes, LLC have been featured on LowEndBox a few times before. They were founded in September 2012 and are based in Columbus, Ohio. Damien is also pretty active on our forum, LowEndTalk (it was his Birthday yesterday – so Happy Birthday Damien!). Extra IPv4 Addresses are $2.00 monthly. IPv6 addresses can be provided in Los Angeles. New Jersey is a brand new location; the LET offer made reference to France, but it no longer seems available. Looking at their previous offers, they regularly receive great reviews.

SupremeBytes accept payments via PayPal and 2Checkout. According to their website, most VPS are setup within 10 minutes. They're now Better Business Bureau Accredited. Ubuntu 11.10, Centos5/6, Arch Linux, Suse 12.1, Debian, Fedora (32/64 bit on all choices) are all available on both KVM and OpenVZ servers. IRC is allowed at their Los Angeles location only. For more information, have a read of their Terms of Service.
Network Information:
Los Angeles, California (QuadraNet).
Test IPv4: 67.215.228.14
Test File: http://vpstest-la.supremebytes.com/bigtest.tgz