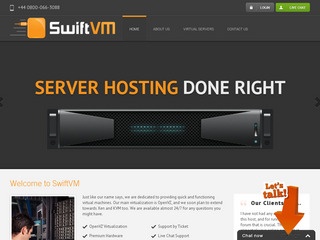 Jordy, from SwiftVM, has recently emailed in the below two offers. SwiftVM seems to be relatively new, but according to Jordy; both him and Chris (Eastonch) have both worked at other hosts within the community.
512SSD LEB

512MB RAM
1024MB vSwap
4 vCPU Cores
25GB SSD Diskspace
500GB Bandwidth
100Mbit Port Speed
OpenVZ/SolusVM
1 IPv4 Address
Order: $5/Month

1024SSD LEB

1024MB RAM
2048MB vSwap
4 vCPU Cores
20GB SSD Diskspace
1000GB Bandwidth
100Mbit Port Speed
OpenVZ/SolusVM
1 IPv4 Address
Order: $7/Month
This is the first time that we've featured SwiftVM and we're told that this promotion is limited to 50 of each plan. If a plan is not quite suitable for you, they're happy to work something out with you. They're using servers with the Intel Xeon E3 1270v2 CPU, 32GB ECC DDR3 RAM and 4 X 512GB SSD RAID10 (Samsung 840Pro drives). If you're into your I/O speed, we're told that these plans are capable of reaching between speeds of 900-1000MB/s. They also provided us with this ServerBear benchmark and I found this short review on LowEndTalk.

SwiftVM currently only accept Paypal but they offer a 3 day full refund policy, no questions asked. The couponcode "LEBOFFERFTW" can be used to get 15% off any of their other products. Additional IPv4 addresses are charged at $1 per month. TL;DR TOS: No illegal stuff, or hacking, pirated, child porn, or anything bad. Torrents, adult content, IRC, TOR relays (Not nodes) are allowed. For more information, take a look at their Terms of Service.
Network Information:
Servers are hosted in San Diego with AIS. You can view their public uptime monitor here.
Test IPv4: 216.240.191.3
Test File: 100MB & 1GB