Rob Monster.
Depending on your political views, he might live up to his last name.
On the other hand, he might be your Christian savior that was your last stop in keeping your website online when negative PR caused by that one outrage came your way.
For folks who are new to the #Christian walk, keep in mind that Satan will often sift you before God blesses you. And as near as I can tell, the process of sanctification and refinement never ends. God rewards faith. Higher levels. Higher devils. Keep going.#GreaterAwakening

— Rob Monster (@robmonster) September 4, 2022
He first came to fame for restoring controversial sites after they were deplatformed. For example, he restored Gab after being taken down for hosting videos of a mass shooting defending the video by saying it could be CGI. Alex Jones, Nick Fuentes, Parler, and more are a few other sites he's restored.
Are you getting why I say the "Alt-Right" part earlier now?
Anyways, it doesn't matter how you view him…
Because he isn't in charge of Epik anymore.
Back in 2022 it was announced a man named Brian Royce would take over as CEO.
Here was what Rob Monster had to say back then:
"Building Epik has been a life's work. Brian Royce brings the tenacity needed to take Epik to the next level as well as a robust set of competencies in the functional areas of technology management, operations, finance, legal and compliance. I am excited to support the next phase of growth from the Chairman seat while also being able to devote more time to new endeavors, particularly in the areas of Christian ministry and related philanthropic projects."
Brian Royce went on to say:
"Epik will continue to stand for free speech. It is extremely important to me to see core values of freedom, truth and liberty reflected in all we do at Epik. I am concerned about free speech as I look at what is happening across America. People are actively trying to silence people like Joe Rogan, Dave Chappelle and Chris Rock just for talking and telling jokes. I am concerned about free speech as I look at what is happening across America. People are actively trying to silence people like Joe Rogan, Dave Chappelle and Chris Rock just for talking and telling jokes."
At the time, it seemed like a mutual breakup.
That was until of course until like most breakups… things got messy.
Rob Monster's conflicts: 1) Indebted to the company, 2) Personal guarantor of company debt, 3) Defendant in litigation. He owes money & faces claims against him, creating multiple personal interests. #ConflictsOfInterest #DebtIssues #litigation #BeEpik

— Epik.com (@EpikDotCom) April 17, 2023
But let's pause for a second and wind it back. Before Rob Monster was replaced as CEO, well… let's just say…
Thing's didn't tend to run very well under Rob Monster (shocking!)
After some research it seems the downfall of Rob Monster (and Epik) is quite simple, really.
In fact, I can break it down into three simple pillars:
1) The same thing that creates growth can also kill you if not moderated.
Epik was built off the back of controversy. Nothing provides better and cheaper advertising than controversy. People love to be angry, and bipolarity also attracts.
When Rob Monster made himself and Epik a target to be hated, he also made it a giant magnet for the opposites. He made a niche of hosting Alt-Right sites and people who support those kind of things.
Plus, personally, I am a big believer in free speech, so I do think people used him solely because they supported his belief in free speech (love him or hate him). So, he certainly did have a market. Companies like BuyVM also tap into that market, but do it in a much better way.
The problem arises when he went past his mark a little bit too much. Massive growth and tons of attention weren't enough. He wasn't fine just being the free speech guy. When you start saying things like Alex Jones is "like a gateway drug for, for like truth" you start attracting an extreme audience.
That extreme audience brings in extreme attention, with strange intentions…
2) The hack.
After Rob Monster was rolling in the dough during his Epik prime, he started attracting serious attention. A lot of that bad.
That lead to a giant hack.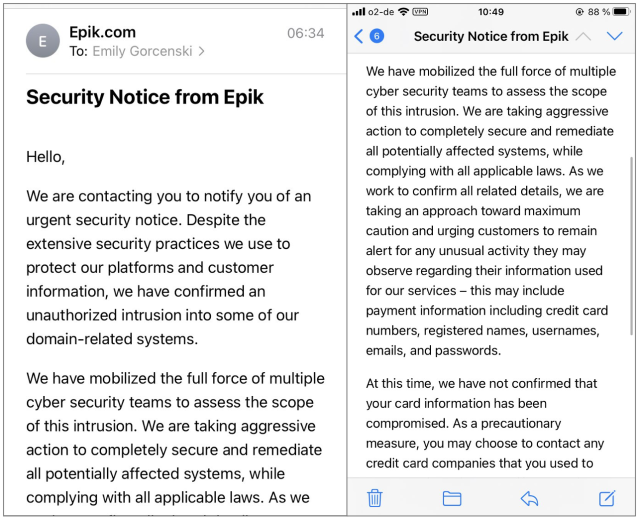 15 million users' information leaked out to the public. Even card information. You can't tell me that isn't bad for business.
Especially when your audience is that extreme audience. They want someone and something they can trust.
Being hacked doesn't provide that kind of trust at all. Especially when you blamed the vulnerability on a team of Russian developers who built the original platform using outdated code.
(There's nothin' more 'merican and Alex Jones-esque than Russia.)
I think this was the catalyst for Epik. Both the peak of their success and the dawn of their failure. Rob Monster rode the gravy train of attention to a pile full of money but ultimately entirely fumbled the bag at the peak with the hack.
That's why he needed a quick influx of cash (because 32 million dollars in funding from a billionaire dries up quick when you're Rob Monster).
3) Masterbucks.
I believe Masterbucks was Rob Monsters answer to a growing mountain of debt.
Speaking of which…. whoever actively controls Epik's Twitter account specifically mentioned this:
#BeEpik 2.0 Team & CEO shut down Masterbucks Dec '22 due to serious financial & security risks from Rob Monster's actions. Now, Epik struggles to manage debt from his company-wide oversights, including Masterbucks. #BeEpik

— Epik.com (@EpikDotCom) April 14, 2023
Masterbucks was released right around the peak of crypto hype. Rob advertised it as a blockchain based competitor to the likes of CashApp or Paypal. It was basically just store credit for domains, literally.
Some people still trusted Rob enough at this point to use it. At their demise, of course. Abruptly a lot of users started complaining about not being able to withdraw funds.
Shortly after Masterbucks was taken offline to more or less never be seen again. Keep in mind this all happened right around the time the leadership change mentioned earlier occurred.
Those, my friend, are the three pillars that broke Epik's back.
Now back to Epik's new CEO (and Epik's downfall)…
Brian Royce at the time explained the downtime of Masterbucks by saying:
"The United States of America is our club. And if we live here, we're members, even if we don't want to be per se. But we are, and they got rules and they got regulations and they got these crazy guys called IRS agents."
Basically, he blamed it on taxes.
He went on further to say (about Rob Monster):
"To be very clear on that, anyone that did business through Masterbucks will be paid in turn. Any transactions that happened once I took the reins, those are all sacrosanct and I can speak to those very carefully and say there's no problems with those. But previous transactions before I took over this position, we're still figuring those out. I've got to be honest."
So, he's saying "sorry, Rob scammed you, but I can probably maybe but probably not fix it."
Of course, to this date there's no solution.
Rob Monster has basically vanished. Brian Royce hasn't fixed anything. Masterbucks users still haven't been able to withdraw funds. All of Epik's users from earlier still had their information leaked.
As a whole, there's been a mass exodus of users transferring out or cancelling domains. We're talking tens of thousands of cancelled or transferred domains.
It's all quite a massive dumpster fire, and Rob Monster seems to be M.I.A. as lawsuits fly around freely (probably for good reason).
I say we all grab some popcorn….
…and take a seat while we watch this all play out.