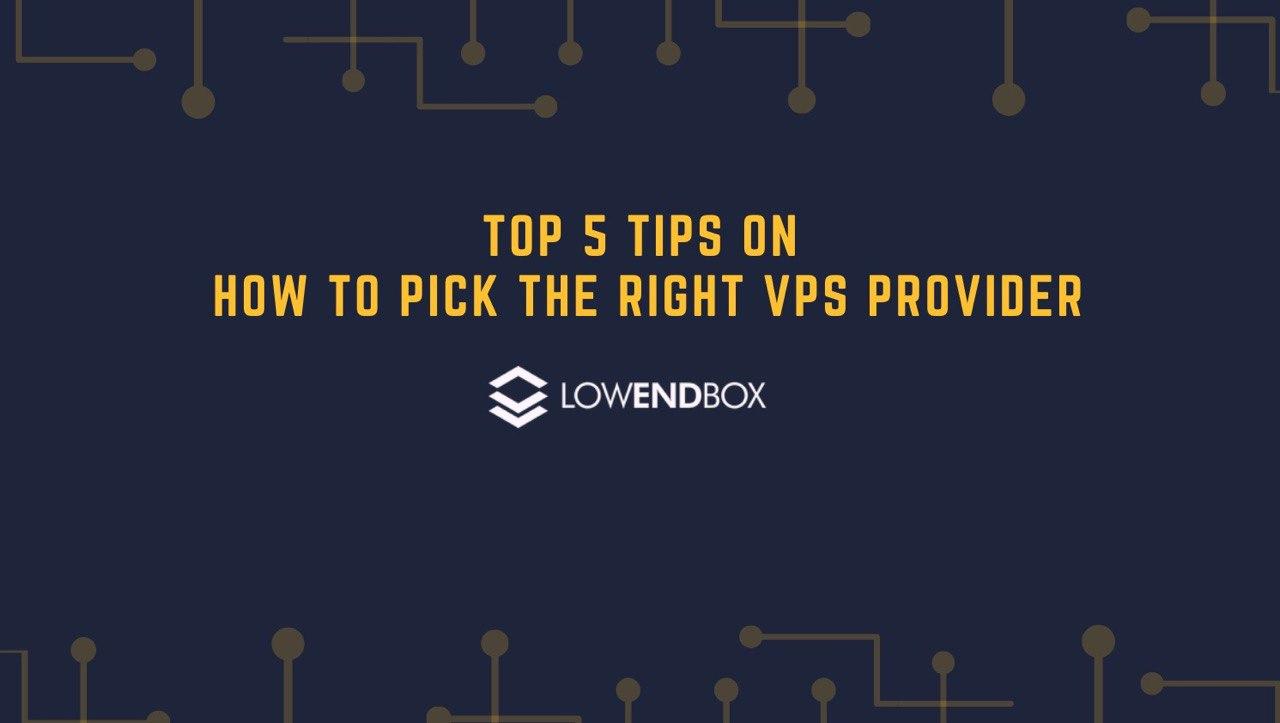 The tips below were contributed and shared by Dustin B. Cisneros from RackNerd, a seasoned and experienced contributor of the hosting industry who is a popular provider here! 
In this post, we'll be talking about the top tips and qualities to look for when selecting a VPS hosting provider. While there are certainly other qualities that you may consider important, the below characteristics are what I believe are the most significant to seek out, and are a good starting point for those who are researching.
The goal of this article is to provide you with the knowledge and pointers so that you make an informed decision to choose the perfect VPS for your needs. So let's say you've found your ideal provider, you've already completed preliminary research with reviews posted online, and the price and resources offered look great! Now what are some other things to look at?
Is the hosting company a registered company?
You can first start by checking to see if the hosting provider you're considering is a registered entity, whether it be an LLC, Inc, sole proprietorship, or other.
Once you've determined this, verify with the appropriate state that the entity is registered, and up to date. Here's an example: You can verify RackNerd's state-approved entity here — the entity name is RackNerd LLC and file number is 7754911
Does the provider have actual office space, or are they a remote team? While there's nothing wrong operating a business from your home, and such, having an actual office space usually means they're a real business, and an adult (not a teen/summer host operating out of their parent's home). Having office space offers extra peace of mind, and the ability for customers and local businesses to stop by. Want to research to confirm if your next host or current host operates with actual office space? Check their about, contact details, or WHOIS page to see if they reference an office address. While there is nothing wrong with a remote team, it's at least comforting to know that a company has real presence, with real staff working on-site. That can translate to more streamlined and organized responses to your support requests. Again, this is not a solid "must-have" — just more of a plus. I'd like to clarify that it is still 100% possible to provide a solid customer experience by having a remote team. Every company has to start somewhere.
Does the provider provide 24×7 support?
Another important key characteristic to look out for is if the provider provides 24×7 support. Even if you do not think you will require much support, it's important to know if your provider will be there to answer your inquiries in the event you need help later on down the road, or in the event, something unfortunate happens at 4 AM in the morning. 
To validate they provide 24×7 support, you can submit a test support ticket and check their response time, or check reviews online for the hosting provider you're considering and pay attention to what other customers say about support. How quick was their response time? Can they be reached by phone? 
What is the datacenter location?
Choosing a VPS host in a premium location is important, and can provide you with an array of benefits. The most major Internet hubs can be found in major metropolitan cities, so hosting services in such areas are much more beneficial as they usually translate to better network connectivity.
Additionally, you will want to choose a datacenter location that is closest to you (or your audience). For example, if you're from China, you may choose to go with a provider with datacenters in Los Angeles, instead of going with a provider with datacenters in Miami. It will be beneficial from a network latency and network speed perspective. Whereas if you're from Brazil, you may find a server in Miami to be most beneficial to you network wise.
If you wish to test network performance to your location before purchasing, ask your provider for a Looking Glass (or at minimum, a test IP and test file).
Does the provider have a premium BGP network blend, or are they single homed?
If your provider is single-homed (meaning they do not have a BGP network, and only have one ISP in the network blend) that means your server's network would become inaccessible until the ISP sorts out the outage. With a BGP network mix – that means the provider has multiple ISP's in a network mix, and BGP will automatically re-route against the problematic ISP to another ISP, all without any downtime or interruption to your server.
As you can tell, not only is a BGP network important but what's more important is the network providers within the blend. For example, a provider that only has Cogent and Zayo may be classified as more of a "budget" network experience versus a hosting provider that has more than a couple network carriers in their BGP mix, who would otherwise be classified as "premium." Please note your definition of "budget" and "premium" may vary based upon your requirements and preferred ISP routing (your mileage may vary!) – this is only for example purposes, but it goes without saying that the more carriers, the better. 
That being said, before buying your VPS – be sure to check with your provider and ask them what network carriers are included in their network mix. You could even ask how their network is structured/designed so that you can understand the redundancy they have in place. Another good thing to look at is the provider's service level agreement, this typically includes guarantees and compensation details.
What virtualization technology is the VPS based out of?
What virtualization technology is the VPS that you are going to buy based out of? Most providers mention this on their website or offer plans, but if they do not, don't hesitate to ask before making your purchase.
Nowadays, it goes without saying that the most popular choice among consumers is KVM. The pros with purchasing a VPS powered by KVM virtualization technology is that all applications and use cases should be very similar to how it would on a dedicated server — thanks to it being independent from the host node. This means you can run Docker, OwnCloud, Cloudron, customized kernel headers, and more. You can read more about why KVM is a great choice in an article we recently published. 
Additionally, you will find that KVM VPS solutions generally provide better performance for a number of reasons. Typically, providers offering KVM VPS tend to run the host nodes on more powerful host nodes than they would for OpenVZ based containers, considering the extra overhead that KVM requires to operate efficiently from a host-perspective. On top of this, certain resources within KVM cannot be oversold easily – which is a top reason why consumers prefer to look for the term "KVM" when looking for a VPS hosting solution. This provides extra peace of mind to the consumer that the performance of their virtual server will be predictable and consistent now and in the future.
Most KVM VPS providers who include a control panel such as SolusVM or Virtualizor also allow for you to VNC or HTML5 Console into your server. This is useful if you ever need to console into your server and find remote access (i.e. SSH or RDP) inaccessible for whatever reason. Most providers today allow for custom ISO's to be mounted as well, for you to install your own Operating System on your KVM VPS via VNC.
For the reasons explained above, it is clear why KVM is a technology that many hosting providers have adopted for their virtualization platforms throughout the years, and why consumers tend to prefer it when seeking out a VPS hosting solution. The other popular virtualization platform that still exists in the marketplace today is OpenVZ, in this article we went over the use cases as to why you might select an OpenVZ VPS.
What other qualities or traits do you look for when looking for a VPS provider? Share your thoughts and feedback down in the comments section below!
Latest posts by Jon Biloh
(see all)