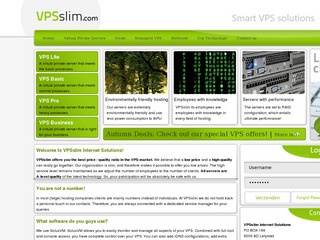 Ralph, from VPSslim, has a few holiday season offers for LowEndBox readers.
128MB VPS

1 CPU Core
128MB RAM
128MB SWAP
15GB Diskspace
150GB Bandwidth
1 IPv4 Address
OpenVZ/SolusVM
€ 12/Year ($16)/Year | Order Link

BASIC VPS

2 CPU Cores
1024MB RAM
1024MB SWAP
100GB Diskspace
1000GB Bandwidth
2 IPv4 addresses
OpenVZ/SolusVM
€ 29.88/Year ($40) | Order Link
€5.50/Month ($7) | Order Link
VPSslim were founded back in 2010, however this is just their second offer on LowEndBox. Their supermicro servers are configured with the E3-1230v2 CPU, multiple SATA drives in a RAID-10 array and come with a minimum of 32GB DDR3 RAM. Comments on their previous offer were generally good with a lot of clients highlighting how fast their support is. On their ticket, they also mention a '24/7 emergency number' which may appeal to those of you who want the peace of mind of instant support. If you're a customer of VPSslim, be sure to leave us a comment below detailing your experience.

They offer a full 7 days money back guarantee and and they offer a 99.99% Uptime guarantee. VPSslim accept payments via Bank transfers, PayPal or iDeal. VPN is allowed for personal use only, adult content is also allowed and TUN/TAP & PPTT can be enabled. When ordering, you can choose from quite a few different addons including bandwidth, software (Castcontrol, Centovacast and cPanel) and IP addresses. For More information, you may want to view their Terms of Service.
Network Information:
Servers are colocated with SERVERIUS in the Netherlands.
AS Number: AS50673
Test IPv4: 5.178.64.10