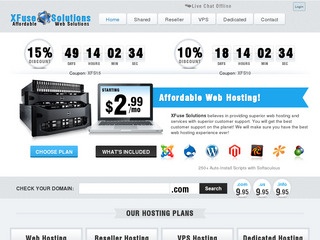 Brian, from xFuseSolutions, is back with another exclusive offer for the LowEndBox community.
LEBKVM
2 CPU Cores
512MB RAM
1024MB Swap
25GB DiskSpace
500GB Bandwidth
1 IPv4 Addresses
100Mbps Port
KVM/SolusVM
$6.99/Month – Order Link
Location: Phoenix, Arizona
Following the success of their previous offer, XFuseSolutions are back with more or less the same plan as before but this time round, you will receive 500GB Bandwidth instead of the 100GB previously offered. Brian informs us that you will have to contact support once you have purchased this plan to have your bandwidth allotment manually upgraded to match this offer. If you would like a custom Operating System, you can send it to them and they'll upload it. They will assign the Operating System to you, so only you can see/use it. Asim left a mini review on the last offer about his experience.

xFuseSolutions were founded in early June 2012. xFuse accept PayPal and Google Checkout as payment methods and offer a full 30 day money back refund policy. Additional IPv4 addresses are charged at $2 per month and DirectAdmin can be added for $8 a month. For further information, you may want to read their Terms of Service and their Acceptable Usage Policy.
Network Information:
All of their KVM VPS Servers are located in the PhoenixNap datacenter in Phoenix, AZ.
Test IPv4: 199.231.87.110
Test File [10MB]: http://stats.alpha.xfusesolutions.net/test_files/10mb.test
Test File [100MB]: http://stats.alpha.xfusesolutions.net/test_files/100mb.test
Test File [1GB]: http://stats.alpha.xfusesolutions.net/test_files/1gb.test