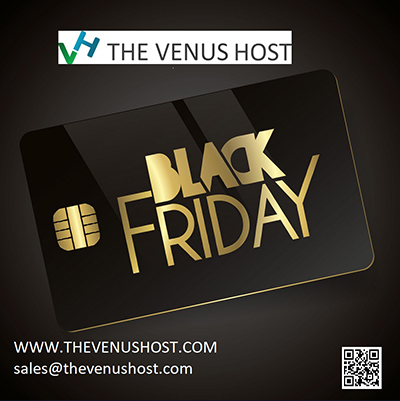 Welcome to Black Friday, Venus Host!
They've been sharing great offers with us here at LowEndBox for some time and always come with fun themes.  Whether it's Valentine's Day, Pandemic Relation Special, or April Fool's Day, The Venus Host always has sharp marketing.
And this Black Friday is no exception.  Check this out:
Get shared hosting for only $2.49/month!
Or $24.90/year!
That includes
Unmetered bandwidth!
Separate disk space for your email so it doesn't eat into your web space!
No hacking guarantee (or 2 months free service)!
1TBPS DDoS protection!
They are registered in India. Their Terms of Service is available on their web site (Privacy Policy). They accept PayPal.
Here's a little about The Venus Host in their own words:
"Our company is in this business from last 2.5 years and during this time span we have not received any single complaint of website get hacking or website get compromised this is the main point of our promotion. We use a very user friendly control panel line cpanel and our knowledgebase is integrated with our control panel. Our webmail's can be configured on the iphone this is also a very important feature to our valuable clients. We are giving separate disk space for the emails to our clients so they can store up to 10 gb to each email address.
We have started our business in 2019 with basic linux, windows & wordpress hosting services.  As we continue do research and trying to give more features to our clients we have launched free global CDN it improves better website loading speed also we have upgraded our PHP versions to latest one so our clients can change php versions by their own.  We have integrated access logs and error logs to the control panel so that our clients can get the both basic logs within the control panel.
We believe that we must not compromise with the quality and security of our clients data so we trying to give service in affordable price as now a days the cost of the server and other things got increased by around 15 to 20 percent but we are minimizing our profit and trying to give service at affordable price because if someone giving very cheap service then what is his uptime and what security he gives we cant say this.
We are giving 99.99% of the uptime and we can say experience the difference between other hosting companies and The Venus Host."
Have you been a The Venus Host customer? Please share your experience in the comments below.
Now read more to see the offers!
Linux, Windows, WordPress
Shared Hosting
Free SSL Certificate for all website hosted under one Hosting Account
Free Global CDN
Free DDoS Protection Up To 1 TBPS
Free Website Builder
Unmetered Bandwidth
10 Email Address Of 2 GB
2 MySQL Databases Of 1 GB
2 GB SSD Web Space
[ORDER]
Please let us know if you have any questions/comments and enjoy!
Latest posts by raindog308
(see all)