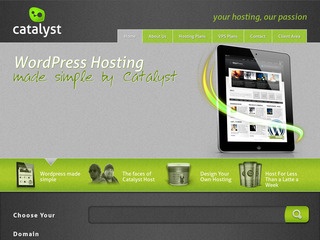 Three offers published in one day – well we must be going crazy are trying to post as many of the Christmas offers we received as possible. In this offer Jarland, from Catalyst Host, is back with his range of LowEnd plans and has included a 50% off first month coupon "50%FirstMonth".
Tall

256MB RAM
256MB vSwap
2 CPU Cores
20GB Raid10 Diskspace
300GB Bandwidth
1Gbps Port Speed
OpenVZ/SolusVM
$4.50/Month

Venti

1024MB RAM

1024MB vSwap
4 CPU Cores
40GB Raid10 Diskspace
500GB Bandwidth
1Gbps Port Speed
OpenVZ/SolusVM
$7.00/Month
CatalystHost have now been featured twice on LowEndBox. Whilst their first offer didn't receive many comments, since that post they have developed a rather large following on LowEndTalk. You only have to look at our top providers poll that we are currently running to whiteness this (I suspect Catalyst will poll well when we count the votes at the end). A review posted in November can be viewed here. The plan comes with "1 Domain DNS Entry" and 1 User Created Backup. A 512MB offer is listed below.

They have recently launched several new features. One of which is DNS Hosting, each VPS comes with free DNS hosting for one domain and can be set up in VirtPanel. Another is user backups, clients can now create and restore their own backup of their VPS. They also now have a 'Backup Policy', Catalyst is now responsible for backing up your data weekly. Jarland states "We are responsible for keeping your data safe. I fully understand the burden I am taking on. I welcome this."
Grande

512MB RAM
512MB vSwap
2 CPU Cores
30GB Raid10 Diskspace
400GB Bandwidth
1Gbps Port Speed
OpenVZ/SolusVM
$6.00/Month
They recently moved from SolusVM to VirtPanel as they're "tired of the "same old thing" and we know you are too". Servers at both locations are connected to 1Gbps uplinks and both utilize hardware RAID10. Currently the only payment method which they accept is PayPal. Whilst they don't have an official refund policy, Jarland informs us that they rarely turn down a request for one. For further information, we suggest you read their Terms of Service and Acceptable Usage Policy.
Network Information:
Dallas, Texas
Test IPv4: 192.211.54.101
Test File: http://192.211.54.101/100mb.test
Lenoir, North Carolina
Test IPv4: 199.241.191.195
Test File: http://199.241.191.195/100mb.test