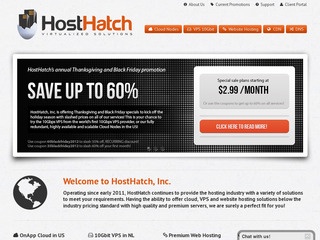 Our second Christmas offer comes from HostHatch. They have four OpenVZ and two KVM offers with a special Christmas present attached to it, all exclusive for LowEndBox readers!
OpenVZ Package 1


128MB RAM
128MB vSwap
7GB SSD Disk space
500GB Bandwidth
1Gbps uplink
1x IPv4 address
OpenVZ/SolusVM
Coupon: Christmas35HH
$15.60/Year | Order

KVM Package 1


256MB RAM
5GB SSD Disk space
1TB Bandwidth
1Gbps uplink
1x IPv4 address
KVM/SolusVM
Coupon: Christmas35HH
$3.25/Month | Order
HostHatch is headed to being in business for three years soon. They are incorporated in Tampa, Florida, USA and have been featured on LowEndBox several times before. These Christmas offers are located in Amsterdam, The Netherlands. If you order during Christmas, so the 24th, the 25th or the 26th, you get double RAM for free! Just open a ticket after you ordered. Read more about HostHatch on their last offer or check out some pictures of their equipment on their facebook.
HostHatch also offers free Comodo SSL certificates with all VPS packages.
More offers inside!
OpenVZ Package 2


256MB RAM
256MB vSwap
15GB SSD Disk space
1TB Bandwidth
1Gbps uplink
1x IPv4 address
OpenVZ/SolusVM
Coupon: Christmas35HH
$2.60/Month | Order

OpenVZ Package 3


512MB RAM
1GB vSwap
30GB SSD Disk space
2TB Bandwidth
1Gbps uplink
1x IPv4 address
OpenVZ/SolusVM
Coupon: Christmas35HH
$3.90/Month | Order

OpenVZ Package 4


1GB RAM
1GB vSwap
40GB SSD Disk space
4TB Bandwidth
1Gbps uplink
1x IPv4 address
OpenVZ/SolusVM
Coupon: christmas42
$6.96/Month | Order

KVM Package 2


512MB RAM
10GB SSD Disk space
2TB Bandwidth
1Gbps uplink
1x IPv4 address
KVM/SolusVM
Coupon: Christmas35HH
$6.50/Month | Order
Network test
Network information: http://mirror.ams.hosthatch.com