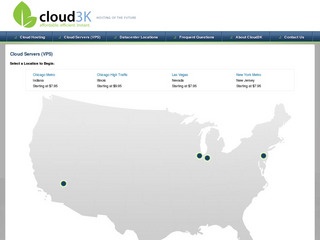 Devon from RockMyWeb is celebrating their 6th anniversary with a new brand called 'Cloud3K'. RockMyWeb were last featured on LowEndBox last year with their other brand Virtually Dedicated.
Cloud Server VPS
1GB Dedicated RAM
50GB SSD Cached Disk Space
2TB Bandwidth
CPU: 4
1 IPv4
VPSGrid (customized OpenVZ)
$5.95/Month – Coupon: SIXYEAR
Cloud3K is a subsidiary of "RockMyWeb and VirtualComplete LLC". Kind of confusing with three different brands but Cloud3k is designed to offer 'affordable cloud servers'. The terminology of 'Cloud' has been discussed a few times on LowEndTalk with some people saying the term is valid and others calling it a marketing term for a 'High Availability VPS'.
According to Cloud3k's website, their system stores your data on two physical servers which helps keep your data safe and server online in the event of a failure. They also have a load balancing system which gives you higher performance than a normal Virtual Server "by balancing cloud servers between physical devices based on load".
They allow Adult content, VPN and customers can also enable PPP/TUN from their panel but be sure to view their full Terms Of Service. They offer a full 30 day money back guarantee with a 100% uptime SLA policy.
Network Information:
South Bend, Indiana.
AS Network: http://bgp.he.net/AS12260
Test IPv4: 67.214.181.195
Test File: http://www.cloud3k.com/100MBtest.zip
Chicago, Illinois.
AS Network: http://bgp.he.net/AS30058
Test IPv4: 208.53.158.162
Test File: http://il.cloud3k.com/100MBtest.zip
Las Vegas, Nevada.
AS Network: http://bgp.he.net/AS53340
Test IPv4: 199.127.56.201
Test File: http://nv.cloud3k.com/100MBtest.zip
New Jersey.
AS Network: http://bgp.he.net/AS20473
Test IPv4: 108.61.51.247
Test File: http://nj.cloud3k.com/100MBtest.zip