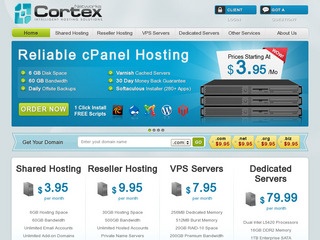 Jeremy, from Cortex Networks, have returned to LowEndBox after a very long hiatus away from the community. This offer is available in Jacksonville, Florida & Chicago, Illinois.
OpenVZ 1024MB RAM
1024MB RAM
1536MB vSwap
2 CPU Cores
100GB Diskspace
800GB Bandwidth
100Mbps Port Speed
OpenVZ/SolusVM
1 IPv4 Address
$4.95/Month | Order Link
Cortex Networks LLC have been in business since 2010 and are based in Orange Park, Florida (a suburb of Jacksonville). Their VPS host nodes are using Supermicro servers with the Intel E3-1270 CPU; 16GB DDR3 RAM and 4 1TB Western Digital harddrives with RAID 10. Servers built around the E5 CPU will be deployed in the near future. Jeremy has posted a few offers on LET thus far. The only review I could find was this little one. If you sign up, do leave yours below.

Cortex Networks accept payments via Paypal and Payza. They allow refunds within the first 7 Days of service, as long as no abuse has been commited with the VPS (such as spam). Additional IPv4 addresses are billed at 50 cent each, and cpanel is charged at $15 monthly. They do not allow IRC, Bittorrent, P2p, Warez, or Spamming. For more information, have a read of their Terms of Service or Acceptable Usage Policy.
Network Information:
Servers located in Jacksonville, Florida are housed at the GoRack datacenter.
Test IPv4: 8.22.205.70
Test File: http://jax02.lg.myservercontrol.com/100MB.test
Looking Glass: http://jax02.lg.myservercontrol.com/
Chicago servers.
IP Address: 149.255.32.100
Looking Glass: http://chi01.lg.myservercontrol.com/
Test File: http://chi01.lg.myservercontrol.com/100MB.test