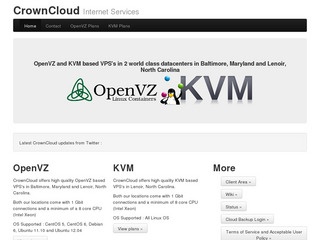 Arjit from CrownCloud has two exclusive offers available for LowEndBox readers.
VPS-128

128 MB RAM
128 MB vSWAP
20 GB HDD
4 CPU Cores
SolusVM/OpenVZ
IPv4: 1
$3.50/Month  – Order Link
Location: Los Angeles

VPS-512

512 MB RAM
512 MB vSWAP
40 GB HDD
4 CPU Cores
SolusVM/OpenVZ
IPv4: 1
$7/Month – Order Link
Location: Los Angeles
CrownCloud were founded 8 months ago. This is their first offer to be published on here, however they have self-posted several offers on LowEndTalk. They are not currently a registered company, but are planning to become one in the near future. You may be wondering why we haven't listed any Bandwidth allocations, it is because all vps are connected to 100Mbit ports and bandwidth is "unmetered" subject to fair usage (user can't use 100% of the port 24×7).

CrownCloud provide 1 IPv4 per plan, however, you can purchase more for an extra $1 per IP per month. Currently IPv6 is not available and they do not have any ETA on when they will be IPv6 ready. They did mention though, that each VPS will be assigned 10 IPc6 when they eventually can provide it. They accept PayPal or Bitcoins as payment methods. Torrents and IRC servers are not allowed but Adult content, private VPNs and IRC clients are welcome. To read their complete Terms of service, check out this. They don't currently have a refund policy but an exception can be made in special circumstances.
Network information:
Servers are in the GorillaServers Datacenter in Los Angeles, California (west coast).
Test IPv4: 198.136.28.50
Test File 100MB: http://198.136.28.50/100mb.test