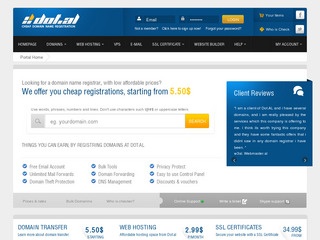 Sadi, from Dot.AL, has emailed us an exclusive 50% off offer for their OpenVZ VPS Basic plan in North Carolina.
VPS BASIC
256MB Dedicated RAM
384MB Burstable RAM
2 CPU Cores
10GB DiskSpace
400GB Bandwidth
1Gbps Port Speed
1 IPv4 Address
OpenVZ/SolusVM
$5/Month – Coupon – LEBHALFOFF
Location: Lenoir, North Carolina (USA)
Dot.AL, a registered company in Albania, have been around since 2009. Originally, they began operating as a domain registrar but quickly expanded to providing hosting services. They have only been featured on here once before and that was back in September when they offered the same plan as they're offering today but with only a 30% discount – not the 50% they're offering today. They have an account on LowEndTalk but it is rarely used. They hope to be IPv6 enabled within the next few months.
Their website has been monitored by WebHostingStuff since end of August 2009 and reports a 99.97% uptime! Dot.al offer more than 25 Operating Systems including the Ubuntu, CentOS, Fedora, Suse and Scientific operating systems. They accept payments via PayPal, Payza and Skrill. Dot.Al have a full 7 day, no questions asked, money back guarantee and their website also states that they offer a 99.9% Uptime. For more information, they have a very detailed master agreement which you want to have a look at.
Network Information:
Test IPv4: 199.191.57.67
Test File [100MB]: http://199.191.57.67/100MB.zip
Test File [1GB]: http://199.191.57.67/100MB.zip