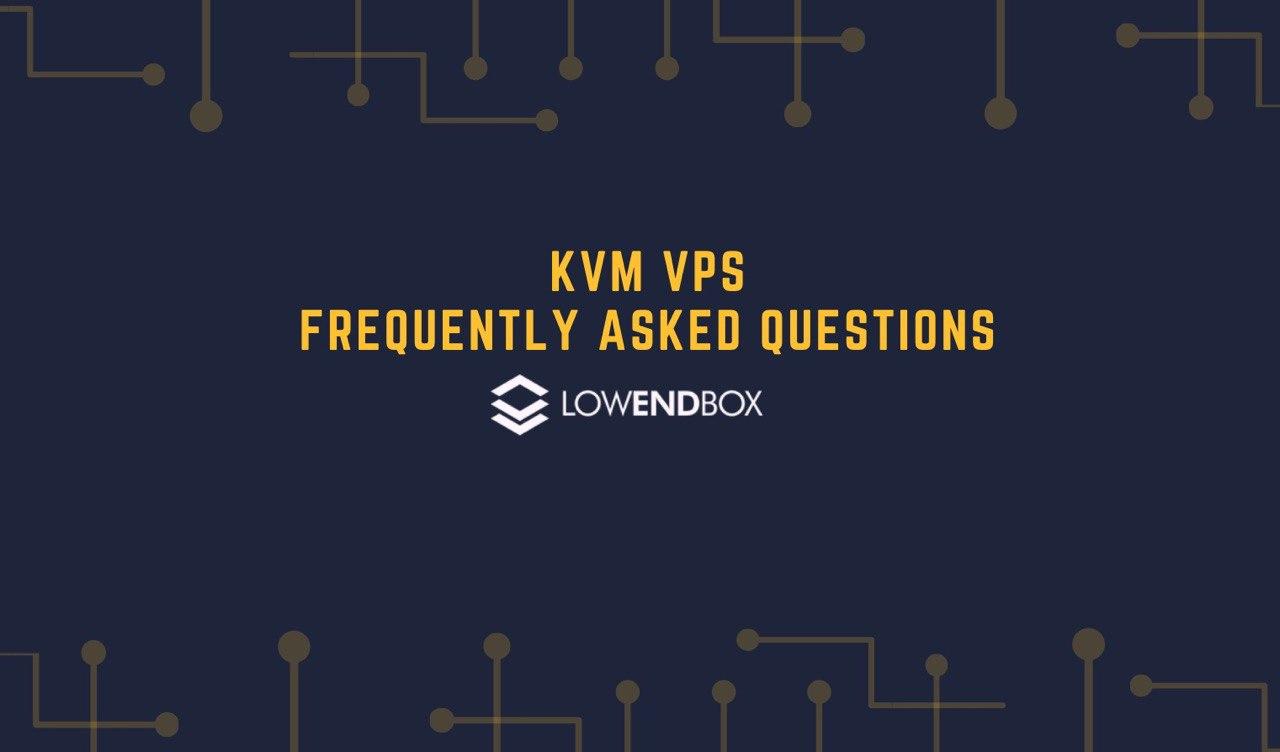 As part of our continued "Frequently Asked Questions" Series on Virtualization we've published a short starter's friendly FAQ On KVM based VPS plans. If you're looking to learn more beyond this article, we've got plenty more tutorials and FAQ's which are worthy of reading.
Question: What is the difference between KVM and OpenVZ VPS?
In short, KVM provides dedicated resources, and allows you to run the VM independently (with its own kernel, and operating system of your choice). OpenVZ is typically more cost-effective, though it comes with limitations of its own nature, such as the inability to run Docker natively and sharing the same kernel as the hypervisor/host node. Recently we've highlighted some of the strengths of the OpenVZ and KVM architecture. Additionally, at LowEndBox we ran a poll for the preferred virtualization engine that users prefer, and KVM came far ahead as the winner.
Question: Are KVM VPS instantly activated?
Generally speaking, most KVM VPS providers offer instant activation. If you are in a time-sensitive situation, feel free to check the provider's website before ordering to see if they advertise instant/automated provisioning.
Question: Why has KVM become such a popular virtualization technology?

Over the past years, KVM has become an increasingly popular choice among both service providers and consumers. This is thanks to its stable virtualization technology which allows a VM to act independently as if it were its own dedicated server. Before KVM, users were typically restricted (by virtualization platforms such as OpenVZ and Virtuozzo) to certain OS's and certain kernel versions. As KVM based VPS's run independently, all of those restrictions are effectively removed, giving the consumer more control and power than ever available before within a virtualized environment.
Question: Can I run Windows OS on a KVM VPS?
Yes, technically KVM virtualization platform supports Windows OS (or any OS, really!). Check with your provider before ordering to ensure they support/allow Windows OS to be run on their VPS platform.
Question: Can I run Docker on a KVM VPS?
Yes, Docker is natively supported on a KVM VPS and can be run without having to worry about loading special modules on the host.
Question: What are some KVM VPS Providers?
LowEndBox recently compiled a list of the best and cheapest VPS providers (updated 2020). KVM VPS providers included: RackNerd, VirMach, ExtraVM, HudsonValleyHost, DediPath, LetBox, LosAngelesVPS, and RamNode. See: https://lowendbox.com/best-cheap-vps-hosting-updated-2020/
Question: Can I install my own custom OS if I have an ISO?
Yes, KVM VPS do have the ability to mount your own ISO to install your own operating system. The OS install is typically completed via a VNC or noVNC console. Be sure to contact your hosting provider before ordering to ensure they support the ability to mount custom ISO's.
Question: What is a KVM VPS?
A KVM VPS is a virtual private server that lives on a physical dedicated server – however the VPS operates as its own server. KVM VPS technology is typically more desirable compared to other technologies such as OpenVZ because KVM virtualization supports the ability to run custom OS, kernels, and more. A KVM VPS is very similar to having a dedicated server – offering tremendous reliability and performance at a fraction of the cost of a dedicated server. Most KVM VPS providers also include console access via VNC/noVNC, providing you with total control over your server's environment.
Question: Can I upgrade my KVM VPS?
Generally, the answer to this question is yes – the KVM platform is built to be scalable. However, this policy may vary from provider to provider, so check with your VPS provider on upgrade procedures/options before ordering.
Latest posts by Jon Biloh
(see all)