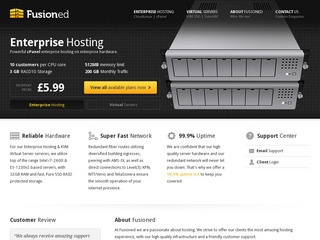 George from Fusioned has just launched KVM VPS services. It was originally posted on LowEndTalk and here it is for LowEndBox readers.
KVM 256 SSD
256MB RAM
5GB Pure SSD Diskspace – RAID10 array
200GB Bandwidth
1Gbps uplink
1 CPU Core
SolusVM/KVM
IPv4: 1
IPv6: 5
£3.99/Month – Promo code: LEB399
Location: Alblasserdam, Netherlands.
This is Fusioned.net's first post on LowEndbox, let's hope to see many more offers in the future! As well as VPS services, Fusioned specializes in enterprise web hosting, and R1Soft backup solutions. Fusioned utilizes new Supermicro enterprise grade servers packed with Intel Xeon E3-1230v2 CPUs, 32GB ECC RAM and 4 x Samsung 830 SSDs in RAID10 configuration. Fusioned claim that "With this setup we are able to provide maximum I/O performance while maintaining data integrity and redundancy". It certainly seems true, looking at their Serverbear benchmarks.
They accept payment through PayPal and offer a 7 day money back guarantee. Don't forget to check their full Terms of Services. It is nice to see that they have a dedicated privacy policy.
Network & General Information
Fusioned host their servers at the Dataplace datacenter in Alblasserdam. Their network, ProServe, is a mix of the following bandwidth providers: Level(3), NTT/Verio, TeliaSonera, KPN and Abovenet.
AS Number: http://bgp.he.net/AS21155
Test IPv4: 176.56.230.135
Test IPv6: 2a00:d880:0:10::5e01:d0f9
Test files: 10MB 100MB