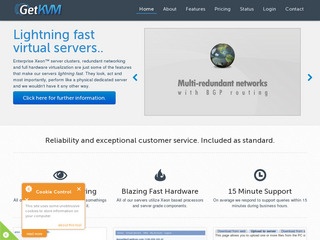 Ashley from GetKVM has a special promo running for LowEndBox readers.
KVM Small
256MB RAM (Free upgrade to 512MB)
10GB RAID10 Storage Space
500GB Monthly Transfer (Free upgrade to 1000GB)
1 Xeon CPU Core (E3-1240)
1 IPv4 and 5 IPv6
£4.00/month
GetKVM is an active member of LowEndTalk. The last time they had a promotion, was before summer in June. After ordering, you will need to submit a ticket to redeem your free ram and bandwidth upgrades. A "7 Day Money Back Guarantee" is included with the offer. Each account is also entitled to Free UK DNS Hosting and 5GB of Off-site Backup Space.
IRC (excluding eggdrops), Proxies and VPNs are permitted. For further information: an Acceptable Usage Policy, Terms of Service and a Privacy Policy can be found here.
Network and General information
German servers are located in the Equinix datacenter in Düsseldorf, Germany.
AS Number: http://bgp.he.net/AS29141
Test IPv4: 130.255.191.4
Test IPv6: 2a02:e00:ffff:ffe1::2
Test File: http://dusseldorf.getkvm.com/100mb.test
Netherlands servers are located in the Dataplace datacenter in Alblasserdam, Netherlands.
Test IPv4: 176.56.230.3
Test IPv6: 2a00:d880:0000:0009:0000:0000:1cfe:e0ce
Test File: http://netherlands.getkvm.com/100mb.test