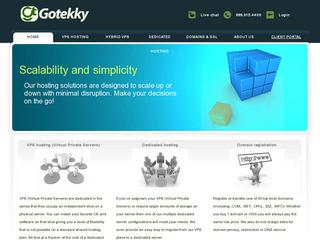 Jean-Piere, from Gotekky, has an OpenVZ based offer for us located in Canada.
VPS hosting – Beginner
512MB Dedicated RAM
5GB Raid 10 Diskspace
1 CPU Core
250GB Bandwidth
10Mbit Port Speed
1 IPv4 Address
IPv6 can be setup if requested
OpenVZ/Proprietary
$5.95/Month – Order Link
Location: Toronto, Canada.
Gotekky were last featured on LowEndBox way back in 2008 when they were offering a $60/Year OpenVZ VPS with 128MB Ram. Gotekky were founded in 2008 by several professionals with more than 10 years of experience in the hosting industry and are incorporated in Canada (7069057 CANADA INC. trading as Gotekky). The host node is equipped with: 64GB Ram, 4xSAS 15K drives in RAID-10 configuration with 512MB NVcache and a Dual Hexa Core Intel Xeon processor. They inform us that they have been reviewed and tested by FindMyHost.com, where they received a perfect grade in every category.

Gotekky accept payments via PayPal, Visa and Mastercard. They offer a 99.9% uptime guarantee and have a 'no questions asked, 30 day money back guarantee'. Cpanel can be added for an additional $12/mo, Direct Admin for $5/mo or you can get the port speed of your VPS upgraded to 100Mbit for $5/mo. They don't allow IRC, adult content, Public VPN/Proxies (private legal use is allowed) and don't allow P2P file sharing. You can check out their full Terms of Service here.
Network Information:
Servers are colocated with Peer1 at the Pullman Court datacenter in Scarborough, Toronto (Canada).
Test IPv4: 107.6.41.13
Test File: http://gotekky.com/speedtest/100mb-file