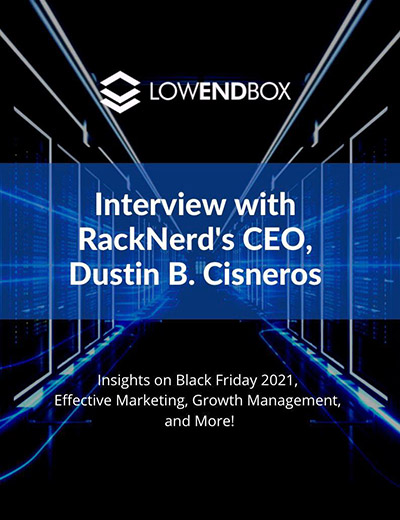 If you've been visiting LowEndTalk at all throughout the past couple weeks, you've surely not missed RackNerd's thread (…unless you've been living under a rock!) — after all, the masters of marketing created what is now well-known as the "Black Friday Lounge". The numbers don't lie and their thread brought in nearly two million views in under two weeks! LowEndTalk (and LowEndBox) subsequently experienced all-time high traffic levels — higher than any prior year  — this was by far the most active Black Friday yet!
LowEndBox had the opportunity to sit down and interview Dustin B. Cisneros, CEO of RackNerd, to talk about this year's Black Friday. Dustin is an industry veteran with over 14 years experience, and his company provides services out of 20 global datacenter locations!
LEB: You achieved nearly TWO MILLION views on your LowEndTalk thread for this year's Black Friday. That's a pretty big deal, to have the most viewed thread in LowEndTalk history. How does it feel?
This was certainly an amazing accomplishment (and we feel honored to hold the highest viewed thread in LowEndTalk history), this was no easy feat and I'd love to ensure proper credit is given — this was a team effort internally. What is not easily apparent is the huge investment of time, planning, and effort that was involved in preparation. I'd like to publicly acknowledge my appreciation for our staff — all of which put in extended hours to ensure that existing clients received unfettered quality and service, and that new clients who jumped at the opportunities our promotions offered received the same high quality onboarding that is indicative of our service levels.
Overall, we're pleased to report positive feedback from real customers — that to me is the real attestment for our team holding themselves accountable to high standards since, as with any key performance indicator in business, feedback (positive or otherwise) denotes a statistical ratio — where for example, one positive public review is a voice (a sample) that mirrors the sentiments of a larger body of clients in one's client base (the population). This is because by nature, clients generally don't take time to share about their experiences with your company if everything is going well (the way it should be). 
I'm very pleased with the amount of positive feedback we received in the public eye, you can only conjecture how many more customers we were actually taking care of behind the scenes. We sincerely appreciated those who engaged within our thread and not only shared about their experience with RackNerd, but even took the time to help out other community members throughout the holiday season. 
LEB: Besides the obvious, since we already know your views and engagement exploded exponentially compared to last year's, how would you say this year's Black Friday was for you guys… overall?
This year's Black Friday was a fantastic experience for us and we saw a large surge of new community members and clients onboarding RackNerd's services! We'd definitely consider this year to have been a huge success! In contrast to last year's Black Friday LowEndTalk thread which achieved around 230,000 views — this year's thread drew the attention of nearly 2 Million views. As expected, we saw a huge influx of new customers, as well as growth of existing clients growing their footprint with us. On numerous occasions throughout the event, we had so many visitors on our website simultaneously that we broke the amount of visitors that tawk.to (our live chat software) could calculate at once. That was pretty fascinating to see :)
LEB: You seem to have a natural knack for marketing. Several members on your LowEndTalk thread referred to you as the masters of marketing, or as the "marketing professor." Why is this?
I think RackNerd as a company is quite known nowadays for providing a solid service — our reputation, reviews, and corporate culture reflect that. Additionally, we're voted #1 Top Provider within the LowEndTalk community, so naturally users engage and actively participate within our threads. It's simple really: we take good care of our customers, and in return – they take good care of us :)
To avoid marginalizing and oversimplifying — it's important to disclose that there are more elements involved to make this happen: dedication, passion, and commitment involved in the work that we carry out. We're very responsive to our customers and every team member here is motivated to (and certainly does) pull their own weight. We show up each and every day, and then some more. We truly care about our customer's success. It's frequently reflected within customer feedback that we receive that we respond to tickets within just minutes, not hours. We don't make excuses or hold ourselves to lower standards – by way of example, even during one of the busiest events of the year, we still maintained our same quality of service and support that each and every customer of ours deserves and has become accustomed to. 
LEB: On that note, there's no denying a lot of providers have been influenced by your style of marketing and engagement. Any tips for providers?
I love this community, this industry, and helping others reach their goals. An important tip: before you go out and market your services or run a promotion, make sure your team is in place and properly structured to handle the extra workload. In other words, service and support quality should not degrade, and customers should not be expected to accept a lower standard of service just because you are busier than usual. Going back to what I said earlier, we don't like to make excuses. Why? Because customers don't want to hear them! Simply put — the time it takes to make an excuse is time you could have spent to solve the problem. We're very solution-oriented here, and while I won't sit here and claim we're perfect, I'd say that's a huge part as to why our customers trust us with their business —  they know we get the job done.
Once you've got that figured out, go out and market your services — engage and stay engaged with your customers throughout the process. If you are a CEO or owner of the business, don't be afraid to communicate with your customers and stay in close communication with your team to ensure everyone is working towards the same vision and values. I talked about this in a previous interview before, but one of my best pieces of advice to business owners is to be in control of every aspect of the ship — you are the captain. I'm a firm believer that there are certain things that you absolutely should not "delegate" as a business owner. I see too many business owners, after achieving a certain level of success or growth, sitting back passively, trusting that "somebody's got it taken care of." In contrast — I want to see for myself and know for sure that things are not only being handled, but being handled properly. Every component of your business should be managed as if your life depended on it, so know every single detail about your company. As a business owner, you have developed a certain eye for things that even your best employees won't have.
LEB: There's plenty of things going on in the world right now, between chip shortages, port delays, employee shortages, etc. How has RackNerd been navigating this?
These unique times are impacting every industry; ours is certainly no exception. Similar to other providers — chip shortages and port delays initially impacted our supply chain upstream, but we've been making intentional refinements to navigate the process. With everything going on in the world, we had actually planned for this year's Black Friday months in advance. Early in the year, we ordered 800+ SSD's, and shipped out servers to numerous data centers of ours — setting them aside and reserving them specifically for Black Friday. Our planning and readiness proved useful, since if we had waited to plan it out the same month of the event, we definitely wouldn't have been able to get access to the infrastructure we needed in order to run a successful Black Friday event for the community.
Good leadership, listening to your employees' needs/wants, and treating them well, are key factors to ensuring employee happiness and retention in today's age. Additionally, ensuring your team member's values and passion align with your company's, will go a long way. I'm pleased to report that we have very low employee turn-over, and while we've been expanding our team lately to support our growth, a significant percentage of our staff have been with us for years. A lot of companies wait until the last minute to seek out and hire talent. My advice on this subject would be to not spare expense or wait, I'd rather be in a situation where I'm overstaffed in one area than understaffed. Whenever we find ourselves in a situation where we're arguably overstaffed as a result of a new hire, I look at it as — by the time that new hire is out of training, we've already generated a handful of new customers via our sales and marketing efforts to require that employee. The cycle starts over and new talent is sought out. In the end, I'm a firm believer that being conservative is never worth it – it can lead to drastic degradation in customer experiences.  After all, we're willing to do whatever it takes to maintain our high service quality and rapid customer support that our customers have come to expect.
LEB: RackNerd is renowned for its very fast customer support. I have seen several comments on your thread where customers were boasting that they were getting replies in under a few minutes, even during this busy time of the year. How does RackNerd accomplish this?
I touched on this previously, but we were able to maintain our same high level of client support (response times within minutes, not hours) even throughout the massive surge in inquiries, deployments, and onboarding attributed to our Black Friday marketing through preparation, excellent leadership, and ensuring employee values align with our company's. Every team member here is highly passionate about what they do, and it shows. Any RackNerd customer that has interacted with our support team will likely agree with those statements.
Many companies look at employees as an expense, I'm a firm believer that if you have to look at your employees that way (instead of as an asset), they are not bringing enough value or are not a right fit for your team. We're far from conservative when it comes to staffing, and it provides a great benefit to our clients, and our company.
LEB: What advice would you give to business owners who are looking to gain more traction?
Many budding entrepreneurs or business owners expect microwaved success — many aren't willing to put in the work to accomplish their goals. You have to put in the work every day. Are you a business owner showing up every day? Are you in ongoing communication with your customers and your team? If so, what about with your vendors? As a business owner, you should know every single detail and be involved within your organization. Keep in mind — although you are a business owner, you are not "your own boss." You have an obligation and duty to answer to your clients and to fulfill your obligation of delivering a reliable and consistent service that they can rely on and build their business upon. Take care of your customers first, and naturally they will help take your business to new heights beyond what you can imagine today. Word of mouth is powerful, and when your messaging is well-received — that's when your marketing efforts start picking up traction. If they don't know you, they won't do business with you. It's important to get out there, take risks, take responsibility for your customers, and do whatever it takes to get your brand known and in-front of people. And the rest? It'll become clear along the journey.
LEB: Thank you for taking the time to conduct this interview with us today Dustin, we appreciate your time and valuable insights. Any final words or closing remarks?
We're sincerely thankful to this community and we're happy to participate and contribute wherever we can. We're appreciative of everything that you do for the LowEndBox community, and for providing such an awesome platform that benefits both consumers and providers.
If anyone reading this is an aspiring entrepreneur, owns a business, or is seeking personal and professional growth, feel free to email me at dustin@racknerd.com or connect with me on LinkedIn. Reach out if there's anything I can help with — and if you're local to Southern California or find yourself here someday, please come visit our office space – I am always happy to connect!
---
Editor's Note: The opinions and context above are solely those of the author, Dustin Cisneros of RackNerd, and do not represent the opinions, values, or positions of LowEndBox. If you or your company would like to take part in a Guest Post, Interview, or Op-Ed, please contact the LowEndBox administration on our Help Desk. 
Latest posts by raindog308
(see all)