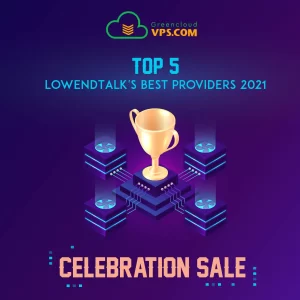 Thanks to @risharde for suggesting that we interview @NDTN from GreencloudVPS.com!
Hello @NDTN! Thank you for agreeing to this interview!
Where are you located? Have you visited us in the US?
I live in Vietnam. I had a plan to visit the US in 2020, but it has been delayed due to the Covid pandemic. I hope that I can travel to the US soon.
Your English is perfect! Are you a native English speaker? If not, how did you learn English so extremely well?
English is not my native language. I have been studying English at school and university. Besides, I often listen to music, watch movies and TV shows to improve my skills.
How should we pronounce your name, Dzung?
It can be pronounced as Zoong or Dzung.
Did you study Computer Science or Electrical Engineering in school?
I studied Mechanical Electronics. It's not directly related to what I'm doing now, but it still gave me good insight into the hosting industry.
What did you do for work before Greencloud?
I did website design and provided shared hosting services to local area businesses for around 2-3 years. That helped me a lot to understand customers' needs before starting GreenCloud.
Your About Greencloud page includes photos of Greencloud's beautiful office and also a timeline beginning with the founding of Greencloud in October 2013. What was it like getting Greencloud started?
In 2012, we were searching for a suitable VPS for our applications, requiring moderate RAM but lots of CPU power. However, the market at that time was limited to very few choices, so to solve the problem, we launched GreenCloud.
In the early days, we used a room at a co-founder's house as our office, equipped with just a few tables and laptops. Those were hard times that we would never forget.
Now we have a beautiful office, as you can see, which can accommodate up to 20 employees. We might need a bigger office space soon if we keep expanding like the past few years.
How long did it take for Greencloud to become profitable?
We had other businesses at that time to cover the operating cost for GreenCloud, but it only took a few months later to become profitable and it has been profitable from that time until now.
The GreencloudVPS.com website landing page says Greencloud has an average ticket response of 9 minutes. That's fast! How does Greencloud provide such fast responses?
We proudly offer 24x7x365 support, since we have in-house staff working 4 shifts a day to ensure that our customers can always be assisted.
We totally understand how frustrating it is when a service is having issues. We treat all customers equally, no matter if they are on promotional plans or our normal plans.
Even at the busiest time of the year (like Black Friday) with 450 tickets opened we still had an average ticket response time of 8.4 minutes.
Are the operating system images installed at Greencloud customized? How can a Greencloud customer verify the signature and integrity of the operating system images being installed?
We only use the OS images/templates from official sources like Microsoft or from our Software's provider (SolusVM) so customers can use them with no worries.
Do you have a Special Offer that you want to share with our Low End Box Readers?
We will submit an Offer for LEB readers soon. We are running a Top Provider Sale for LET members here.
What have been challenging aspects of developing Greencloud? How have you solved these challenges?
Like all other businesses, the first challenging aspect is having profit. To achieve that, we need to be persistent on service quality and not making quick money with unsustainable deals.
As we own all our hardware and equipment, and as we don't have the plan to attract funds from venture capital, we have to reinvest our net profit into new hardware. It can take longer time to grow but it's better for us in this case.
The other challenge is that the hosting industry is changing fast, we must adopt ourselves to these changes. In the past, customers could be satisfied with just the SATA speed of the hard drives, then they needed something faster when NVMe arrived; not to mention the 100mbps network port in the past to compare with the 1Gbps and 10Gbps ports now.
We need to upgrade the hardware every 1-2 years and provide our staff with new knowledge training for recent technologies, to keep ourselves updated with the fast growing industry.
What's your typical schedule on days, nights, and weekends?
I work full-time at GreenCloud; Monday to Friday, from 9 AM to 5:30 PM and Saturday morning, from 9 AM to 11:30 AM. Sometimes I work extra hours in emergency cases like downtime, during Flash Sales or when we are in short of staff during holidays.
I would like to spend the rest of the day and weekend with my family, especially my little 5-year-old princess. I travel a lot with my family, usually once a month, and that's when I can relax, have new ideas to expand our business.
If you also have other work besides Greencloud, how do you manage conflicts?
Now our COO is taking care of the everyday operations of GreenCloud, so I can have some free time for other stuff like investment in crypto or property during the working hours, but they do not require much time. GreenCloud is still at #1 on my priority list.
Who are some of the other people on the Greencloud team and how did you find them?
We now have 12 full-time staff; all very passionate and talented. The first 3 staff members are still working with me since the beginning, one is our COO, one is Support Manager and the other one is our Development Team Leader.
We maintain our relationship in both work and real life, just like a family. We share the same hobby, playing Football once a week, we travel together with our families every few months. That made us not only a team, but also a big family, and the staff can work with more than 100% energy.
As we grow, we hire more staff, most of them were referred from current and even former colleagues. We are expanding rapidly and still are looking for more people to join now.
Does Greencloud own all its server hardware?
Yes, we own all our hardware and equipment across 29 locations around the world. We have started small, renting servers from datacenters, but they were phased out during our expansion over time. We find it more reliable and flexible to use our own hardware. Now we can offer customers the latest hardware like Ryzen 5950x with NVMe 4.0.
What advice would you give someone who is here looking for a new Low End virtual or dedicated server?
They should look for a well-established company with sustainable deals. They should not purchase from a one-man show company as there will be issues sooner or later. We have seen many providers going deadpool by doing unsustainable deals or from one-man companies when they have health/real life issues. Be realistic and be wise!