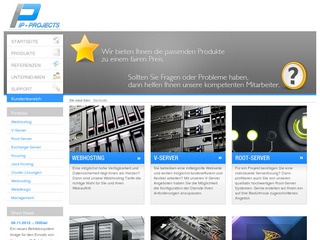 Following our decision to raise the maxmium listing fee for dedicated servers, Michael, from IP-Projects GmbH & co. KG, sent us both a dedicated server offer, and a virtual server offer for LowEndBox readers.
Decicated Server "PRIVAT ATOM"

Intel® Atom™ D525
2048MB Ram
2x 250 GB DiskSpace
SoftWare RAID 1
1 IPv4 Address
1000GB Bandwidth
€22.99/month ($29.50)

VPS V-SERVER XS

1 CPU Core
512MB Ram
40GB DiskSpace
Xen 4 Based
1 IPv4 Address
1000GB Bandwidth
€4.50/month ($5.76)
IP-Projects were founded in May 2007 and specialize in the areas of web hosting, design of Internet projects and Web Design. VPS servers will be hosted on dedicated servers with the following specifications: Core i7 – 3770 CPU, 32 GB DDR3-1333 RAM, 4x 1 TB Hardware RAID 10 HDD (Adaptec 6405E Controller) and are limited to 25 Virtual Machines per server. After you exceed your bandwidth allocation, they offer a 'fair use policy', and will allow you to use up to an additionial 1000GB of bandwidth. If you happen to exceed this, then there will be a problem and thus you will need to contact them and purchase additional bandwidth.

Unfortunately, for none German speakers, their website is in German and so is most of their documents; although Sign up seems to be in English, and Michael's English is excellent. During Sign Up, you can choose to pay via either bank transfer or by using Paypal. If you don't speak German, you can use a translation service to translate their Terms of Service or privacy policy. But in short, Adult, IRC and VPN are allowed. More information about the company can be found on this page, again in German.
Network Information
They use a datacenter in Frankfurt, Germany which is owned by Accelerated IT Services GmbH. Michael sent us a few pictures of their datacenter which can be found here and pictures of their own racks & servers can be seen here.
AS Number: http://bgp.he.net/AS31400
Test IPv4: 82.211.2.74
Test IPv6: 2001:1608:10:3:0:0:f:e
Test File: https://www.ip-projects.de/500-MB