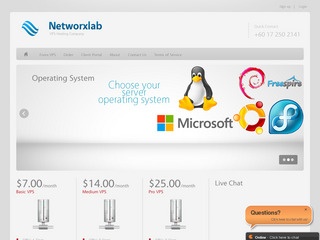 Shayan, from Networxlab, has sent us his very first offer for LowEndBox users which is a 50% discount on VMware servers.
Medium VPS
CPU: 2 Core
Dedicated RAM: 512MB
SWAP: 1024MB
Disk space: 25GB
IP Addresses: 1
VMware
Bandwidth: 2000GB
Port: 1 GB Uplink
$7/Month – Coupon Code LowEndBox
Location: KANSAS CITY
Malaysian based Networxlab have been around since 2002, however this is their first post on LowEndBox. According to their website, Networxlab are experienced in both Windows and Linux VPS hosting. Interestingly, when ordering, it gives you an option to select Windows 2003 for no extra cost. We don't get many VMware offers these days, we've only had one company which has offered it since 2011. I couldn't find any reviews, so if you do happen to be a customer, comment below.

IRC servers, piracy, spam, hacking, cracking, phreaking, warez, exploitative software or text that educates, or encourages this activity and/or use, is not allowed. You can also checkout their full Terms of Service by clicking here. They accept Paypal as a payment method and don't offer a refund policy for their line of unmanaged VPS.
Network Information:
Servers are located with DataShack in Kansas City, Missouri.
Test IPv4: 63.141.248.35
Test File [100Mb]: http://63.141.248.36/100MG.bin
Test File [1000Mb]: http://63.141.248.36/1GB.bin