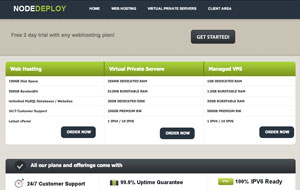 Phil, from Node Deploy, sent us a few 1024MB OpenVZ and KVM offers hosted in either Phoenix, Germany, Los Angeles or, their new location, Atlanta.
OpenVZ Atlanta

4 Cores
1024MB Ram
60GB Diskspace
750GB Bandwidth
SolusVM/OpenVZ
1 IPV4 / 10 IPV6
$4/Month – Direct Link
Coupon: SSAVINGSVZATL
Location: Atlanta, Georgia.

OpenVZ Phoenix & Germany
Node Deploy were last listed on LowEndBox back in June with their first offer. Their was a lot of criticism thrown towards them when it transpired the people behind 'nixhost' also seemed to be involved with Node Deploy. Phil is an active member on LowEndTalk (LowEndBox's community). According to their website; Node Deploy offer a 99.9% uptime guarentee.
A 1024mb KVM plan is available below in Los Angeles and is listed below. Public Proxies & VPN's are not allowed; you can read their Terms of Service here. As always, share your experiences with us below.

KVM Los Angeles
6 Cores
1024MB Ram
10GB Diskspace
500GB BW
1 IPv4
KVM/Solusvm
Windows available
$5/Month – Direct Signup
Coupon: SSAVINGSKVM
Location: Los Angeles, California
Network Information
Falkenstein, Germany
AS Network: http://bgp.he.net/AS24940
Test IPv4: 188.40.51.75 & 188.40.75.83
Test File: http://aura.nodedeploy.com/100mb.test
Phoenix, Arizona
AS Network: http://bgp.he.net/AS20454
Test IPv4: 66.85.132.106
Test File: http://hyperion.nodedeploy.com/100mb.test
Los Angeles, California
AS Network: http://bgp.he.net/AS18450
Test IPv4: 142.4.49.106
Test File: http://ophion.nodedeploy.com/100mb.test
Atlanta, Georgia
AS Network: http://bgp.he.net/AS22653
Test IPv4: 199.233.233.130
Test File: http://aristotle.nodedeploy.com/100mb.test